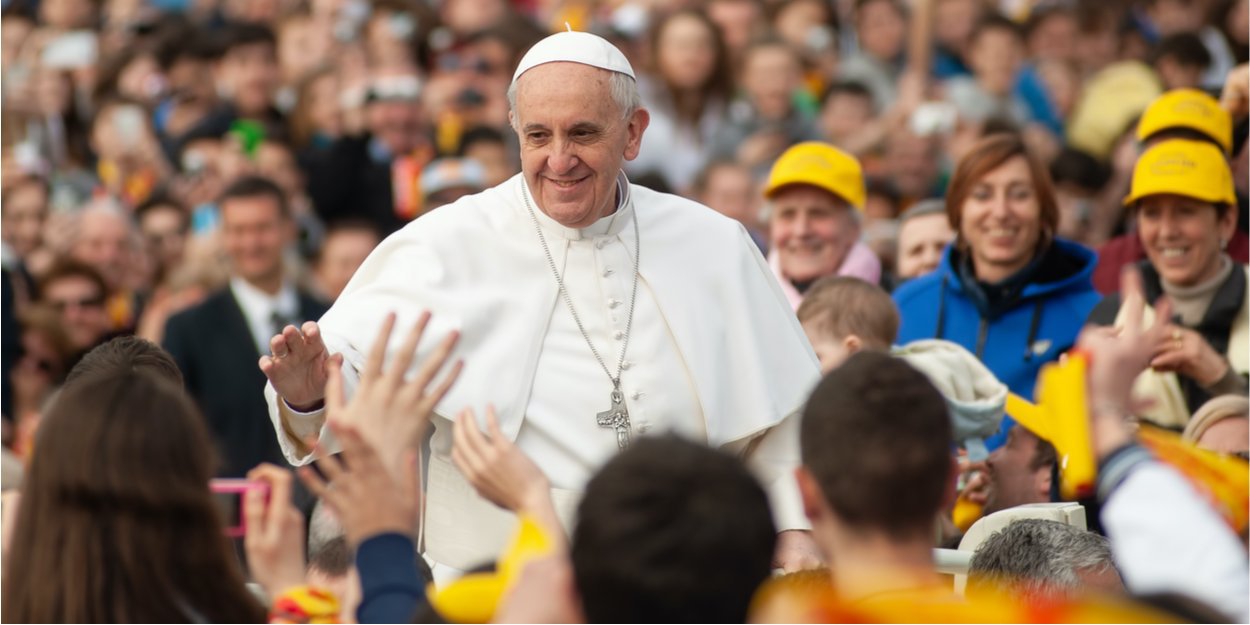 ---
Fratelli tutti which means in Latin "All brothers" is the title of the new encyclical of Pope Francis published last Sunday, October 4.
DOn Sunday October 4, Pope Francis published an encyclical, Fratelli tutti (All brothers) on fraternity and social friendship, an important text for the social doctrine of the Catholic Church.
Five after the publication of his first encyclical, Laudato yes linked to the ecological crisis, the pontiff this time proposes a resolutely social text.
I deliver this social encyclical as a modest contribution to reflection so that, faced with the various and current ways of eliminating or ignoring others, we are able to react with a new dream of fraternity and social friendship. #FratelliTutti pic.twitter.com/1zMIlvg8mi

- Pope Francis (@Pontifex_fr) October 3, 2020
An encyclical that the Argentine Pope places under the patronage of the famous Italian saint "of brotherly love, simplicity and joy", Francis of Assisi.
# SaintFrançoisdAssise, this Saint of brotherly love, simplicity and joy, who inspired me to write the encyclical Laudato si´, this time urges me to dedicate this new encyclical to fraternity and to social friendship. #FratelliTutti

- Pope Francis (@Pontifex_fr) October 4, 2020
On 90 pages, Brothers All, which has been translated into seven languages, urges the faithful around the parable of the Good Samaritan (Luke 10 verses 25-37) to build a better and more brotherly world.
The Pope begins by taking stock of the state of the world, a rather gloomy introduction entitled "Shadows of a closed world". He proposes to fix our attention "on certain trends of the current world which hinder the promotion of universal brotherhood".
"In these conflicts of interest that set us all against each other, where winning becomes synonymous with destroying, how is it possible to lift your head to recognize your neighbor or to side with someone who has fallen on the way? "
At the heart of the encyclical we find this notion of "social friendship" so dear to Pope Francis. A "social friendship", he writes, which allowed the good Samaritan in the biblical parable "to interrupt his journey, to change plans, to be available to open up to the surprise of the wounded man who had need him ".
Brothers All is also an encouragement to truth, peace and forgiveness. In the seventh chapter, entitled "routes to find oneself", the text encourages "to start again from the truth" to rebuild oneself because "there is no more room for empty diplomacy, for pretenses, for double talk, for cover-ups, good manners that hide reality ".
The encyclical passes from truth to peace, whose construction is an "architecture" and a "craft".
"The effective processes of a lasting peace are above all artisanal transformations carried out by the peoples, where each human being can be an effective leaven through his daily way of life"
Finally, an important condition for peace to be established is "forgiveness", the Pope insists on "the value and meaning" of pardon, recalling that it is not a question of "proposing a pardon by renouncing his rights in front of a powerful corrupt, in front of a criminal or in front of someone who degrades our dignity".
Indeed, although we are called to "love everyone, without exception" the pontiff explains that loving an oppressor does not mean "to accept that he continues to enslave, it is not him either. make people think that what they do is admissible ".
"On the contrary, to love him properly is to work in different ways so that he stops oppressing, it is to take away from him this power which he does not know how to use and which disfigures him as a human being. Forgiveness does not mean allowing him to continue trampling on his own dignity and that of the other, or letting a criminal continue to do harm. Whoever suffers an injustice must vigorously defend his rights and those of his family precisely because he must preserve the dignity that has been given to him, a dignity that God loves. "
With Brothers All, Pope Francis, who addresses both believers and "all people of good will", offers a real plea for social commitment.
I hope that in this time that we are passing through, by recognizing the dignity of each human person, we can all together revive a universal desire for humanity. #FratelliTutti

- Pope Francis (@Pontifex_fr) October 6, 2020
CP
Image Credit: Boris Stroujko / Shutterstock.com