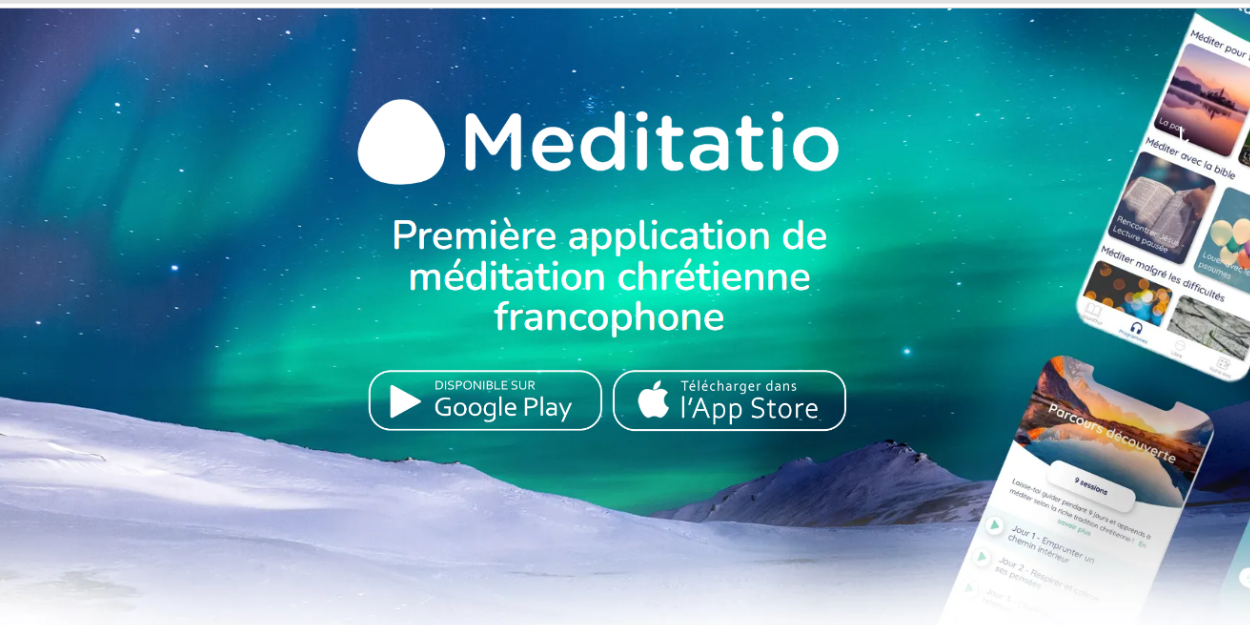 ---
For more than 2000 years, Christian meditation has continued to cross the centuries and nourish the faith of many Christians. Taking various forms, it remains one of the privileged places of encounter with God, and from which many graces flow. But how do you find God through meditation?
Christian meditation is this time of intimate exchange, of friendship, where God makes himself present. In the Christian tradition, meditation is divided into two main trends: meditation on the word of God, and silent prayer. Both require silence and making oneself available to the Lord to listen to him.
Meditation on the word of God
Two ways of praying are part of this meditation process: lectio divina and Ignatian prayer.
Lectio divina is a form of Christian meditation composed of 4 stages: lectio, that is to say the moment when we read and reread the word of God. We try to find elements that resonate more particularly with us, challenge us. Then comes the time of meditatio, where we turn to God to try to grasp what his word tells us today, in concrete life.
Then there is oratio, a direct dialogue with God, and finally contemplatio, which helps us maintain a heart attentive to the presence of Christ. During his prayer, those who practice lectio divina will be able to ask themselves these three questions and meditate on them with truth and humility: what does this text tell me about myself? What does it tell me about God? And what does it tell me about my relationship with God?
Ignatian prayer, developed at the end of the XNUMXth century by Ignatius of Loyola, offers another approach: that of contemplating Christ living and acting in the world from a passage of Scripture.
Composed of several times, this prayer is above all a way of letting oneself be touched by the Lord and of personalizing one's friendship with him. Once the text has been read, the praying person can close their eyes and imagine the scene with all their senses. What is Jesus doing in this passage? What's he saying ? What is the surrounding atmosphere? What noises and smells are present during this scene?
By fully experiencing this scene alongside Jesus, it becomes easier to understand God's will for one's life and to address him in the secret of one's heart.
These two meditative practices confirm it: the Scriptures are a precious resource for praying and addressing God.
Silent prayer
Silent prayer is a moment of personal contemplation that we take to seek the presence of God. This practice, which is also part of the meditative tradition, can be done in several ways. Among them, two major techniques are proposed by the Desert Fathers: prayer of the heart, proposed by them from the XNUMXth century, and oration, theorized by the Order of Carmel in the XNUMXth century.
Prayer of the heart consists of slowly repeating to the rhythm of one's breathing one and the same phrase or one and the same word. It always contains the name Jesus, so it can be just "Jesus", or a longer phrase, such as "Lord Jesus Christ, Son of God, have mercy on me, a sinner.".
If the form and the exact words can vary according to the sensitivity of each person, the Desert Fathers recommend that they agree with the rhythm of one's breathing. Repeated constantly, this technique allows you to avoid all forms of distraction and to integrate the thought of Jesus into all your daily activities.
A little later, in the XNUMXth century, the Order of Carmel made prayer a daily practice of at least two hours for all its members. It is a privileged moment of exchange and encounter with God. To pray, it is therefore appropriate to begin by collecting oneself in order to welcome the presence of the Lord in one's heart, then to exchange with him as with a friend, simply, humbly and with confidence.
Prayer is above all a time of free love, a heart to heart with God. If it is possible to rely on the Word of God, to start from one's experience, or to simply offer oneself to the Lord, no particular technique is really required, since prayer is, first of all, a moment of friendship: it is enough to make oneself fully present and available to the one who is waiting with open arms.
Each method has its specificities, its particularities, but all have the same objective: to get closer to the Lord and follow him day after day. It's up to everyone to find the style of meditation that suits them best, based on their sensitivity and attractions, so that these privileged moments with the Lord become real moments in his presence.
Meditatio, the application at your fingertips to explore different ways of meditating
meditation offers everyone the opportunity to discover or enrich their practice of meditation by drawing on these different traditions. A wide variety of guided audio tours are offered on the application, and allow you to discover and deepen the different forms of Christian meditative and contemplative prayer. And those who wish to free themselves from guided sessions and prefer to pray without accompaniment have the possibility of configuring their own meditation time, by simply choosing the duration, and a biblical passage as well as background music if desired. With Meditatio, meditation is accessible to everyone!
The application is downloadable for free on iOS and Android in by clicking here.
Estelle J.