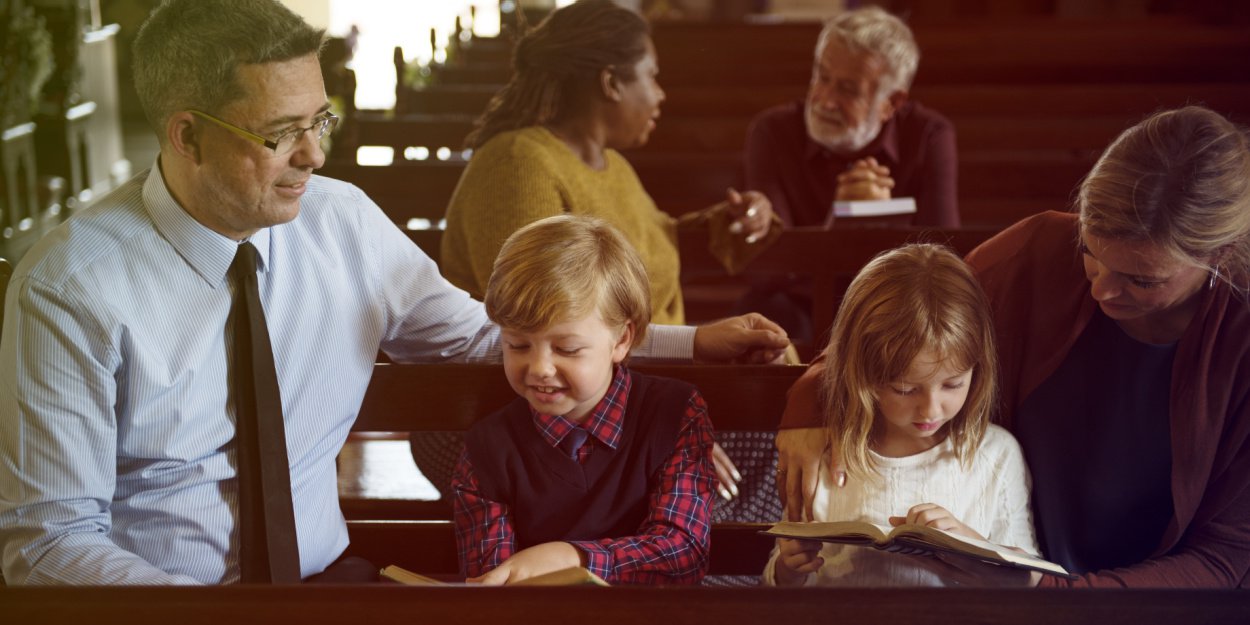 ---
The presence of the father in Christian families is important for the transmission of faith, according to a study published last May. Christians who attend a church are more likely than others to have had a father present in their life, but the figures worry the organization Communio, which points out that the majority of churches do not invest in ministries in favor of families.
Communio is a nonprofit that works with Christian communities across the country to strengthen families. In his study based on a nationwide survey of 19 Christians attending Evangelical, Traditional Protestant and Catholic churches, organization says 'decline of family appears to be fueling decline of faith'. By this Communio means the downfall of marriage and the presence of the father in Christian homes.
The evolution of families shapes mentalities
The study notes that 5% of births occurred outside marriage in 1960, double in 1970, 20% in 1980 and 30% in 1990. At the same time, the United States experienced an explosion in the number of divorces.
While in 1960, it was noted that 8% of women aged 50 to 54 had divorced, they were 11% in 1970, 16% in 1980 and 10% in 2010.
In the last decade, less than half of young people have reached their 17th birthday with both parents still married and living together. Communio adds that between 1986 and 1991, 25 to 30 years after the start of the sexual revolution, religious non-affiliation began to grow, rising from 7% in 1980 to 13% in 1990, 22% at the end of the 2010s, and today 29%.
But while scholars believe that the decline in religious affiliation is linked to the phenomenon of "generational succession" and, more specifically, the political shift and autonomy of viewpoints, Communion considers the explanation to be insufficient. .
According to the Christian organisation, "the evolution of family structures over the past 60 years between generations is statistically significant and precedes - and probably shapes - the formation of personal views, political perspectives and behaviors, including when to church attendance."
The survey found that about 80% of worshipers were raised in homes where their biological parents were married to each other throughout childhood, and that never-married 25-year-old men born to unmarried parents only 10% of men in this age group attending churches.
"In other words, boys who grew up in homes where the parents were married are much more likely to attend church regularly as adults," Communio said.
Not a question of financial investment from the church but of paternal presence
Communio President JP DeGance told the Christian Post that this indicates that the departure of young people from the churches is not to be found in a pastoral gap concerning them:
"We have never spent so much money in the history of the Church to pass on our faith to our young people, and yet more and more of them are leaving the Church. The reason for the decline of the faith is explained in the study: the absence of a married home where the father is warmly engaged in the life of his child caused this fire which led fewer and fewer people to believe."
While churches invest heavily in youth ministries and activities, the study finds that 85% say they don't spend any dollars on marriage and relationship ministry, omitting much more upstream issues. Communio draws the following lessons:
"Effective evangelism in the XNUMXst century requires reversing the decline in marriages, improving marital health, and developing the effectiveness of fathers in those marriages. By addressing these three issues, we can bring about a sustained revival in the faith Christianity and active church participation. The relationship between marriage and faith is clear."
The survey also reveals that people who did not live with their fathers are less likely than others to consider God their heavenly father.
Impact of Prioritization of Professional Success and Pornography on Marriage
Communio points out that non-Christian elites choose marriage when they enjoy high standards of living and believes that Christian elites should seek to offer them another model. However, the influence is in the opposite direction.
The study recalls that researchers explain the increase in the number of late marriages by the transition from a vision of marriage as a "cornerstone" to a vision of marriage as a "finishing stone".
While in the traditional Christian view, that of the "cornerstone", marriage is considered an essential relationship to build a happy and successful life, in the view of society in general, that of the "finishing stone", you don't get married until you have achieved a certain level of financial and personal success.
This is reflected in Christians who adopt this second pattern through sexual relations while waiting to marry or the use of pornography, the study points out, which, beyond that, would lead to less stable relationships.
People living in cohabitation would be five times more likely to break up than those who are married, and the consequences of a breakup after a long cohabitation would be felt in subsequent relationships.
Asked by Fox News, DeGance said criticized the primacy given to professional success over the home :
"We are told not to prioritize marriage and building a family, but rather promote career advancement and maximization of income."
DeGance insists on the lack of consideration by many churches of this late entry into marriage which leads to the generalization of free sexual relations and pornography, and he quotes sociologist Mark Regnurus, professor at the University of Texas in Austin and author of "Cheap Sex: The Transformation of Men, Marriage, and Monogamy":
"When sex is cheap - i.e. undervalued and unvalued - it ends up leading to marriage as a 'finishing stone', i.e. delaying the decision to marry And pornography is an epidemic, it's increasing, shockingly, among young women, as well as men, and, increasingly, men in particular are simply unable to form the kinds of relationships that can lead to a healthy marriage because of pornography."
DeGance says a woman recently told him that her two daughters had broken up six times in a row with Christians who couldn't get over their addiction to pornography.
For him, the churches do not take the subject seriously enough while the average age at which children are exposed to it for the first time is less than 10 years old:
"We live in strange times, in a paradoxically puritanical world, where sex is all around us, but we don't really want to talk about it. Sex is everywhere except in our churches, and by that I mean we need to be able to talk healthy about sexuality in Christian marriage, and what authentic, life-giving sex and marriage look like."
Communio notably draws on research by Dr. Paul Vitz, Professor Emeritus of Psychology at New York University, that extramarital fatherhood does not produce the parenting styles that lead to both the human flourishing of children and an adequate pattern of faith.
For Vitz, a child's inability to develop a healthy attachment to his father often manifests as loss of faith, interest in New Age spirituality, or agnosticism. For DeGance, however, the vast majority of polls reveal that young people still want to get married but cannot.
He considers that churches have a role to play in becoming schools of love:
"They can help people discern relationships well, build healthy romantic relationships that can lead to marriage, and help married Christians have thriving, healthy, Christ-centered marriages."
Jean Sarpedon
Image credit: Shutterstock/Rawpixel.com