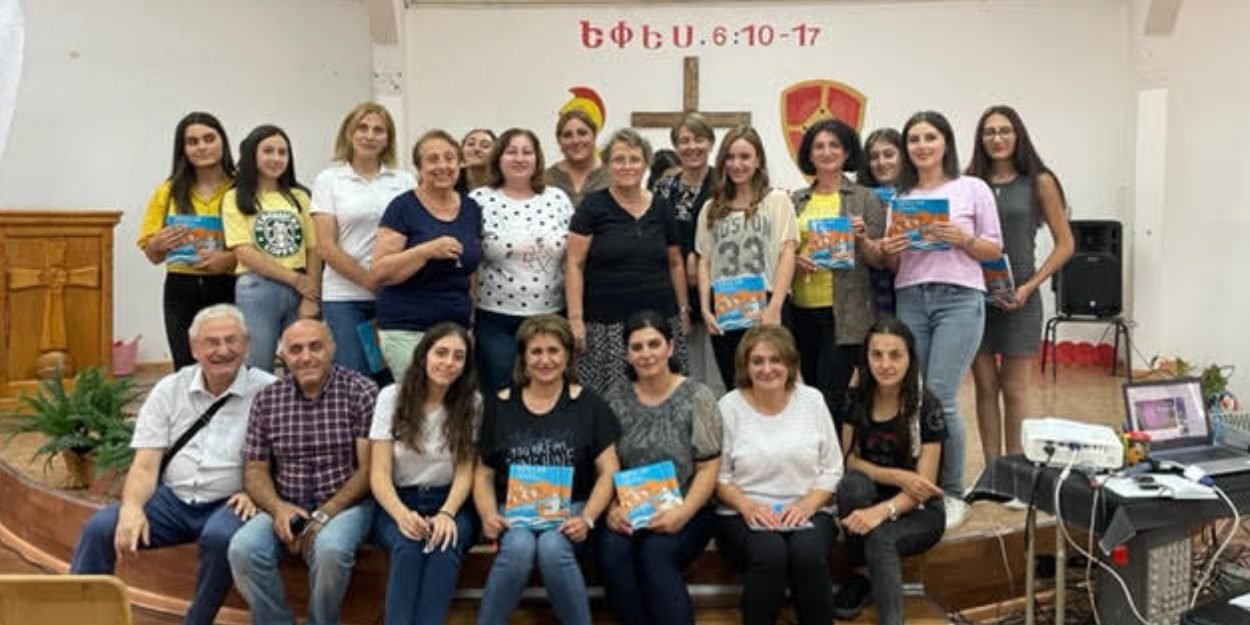 ---
On December 7, 1988 at 11:41 a.m., the earth shook in Armenia. This 6,9 earthquake on the Richter scale devastated 100 towns and villages in northern Armenia, killing 30 and injuring more than 000. After the 15 genocide, which claimed 000 million victims for their faith in Jesus Christ, misfortune once again befell this small, peaceful country in the Caucasus of 1915 million inhabitants. Armenia is the first Christian state in the history of mankind since the year 1,5 AD.
The whole world came to the aid of this wounded population. We all remember the moving song of Charles Aznavour surrounded by a host of famous artists: "For you Armenia"
From April 1989, the members of the Armenian evangelical churches of France, at the call of their President, Pastor Jean-Daniel Sahagian who was returning from a visit to this broken country, will create the Association: "Hope for Armenia".
In his eyes, Armenia, which at the time was one of the 15 socialist republics of the communist Soviet Union and with an atheist ideology, needed material bread as much as spiritual bread.
It is with the aim of satisfying these two needs that 12 solidarity programs will be set up year after year for the families affected.
After the emergency aid, these solidarity actions always inspired by the love and compassion of Christ will continue in 2022.
The association's logo sums up its objectives well: the dove of Noah (reminiscent of the renewal of humanity after the flood), with the letter Ké inside in Armenian, which symbolizes the name of Christ.
This is what gives all its meaning to our commitment and our mission for more than 30 years: to restore new hope, a new future through faith in Jesus Christ, who alone can offer through his death, his resurrection and sends Holy Spirit, the possibility of coming out of mourning, of healing from our wounds, and of finding new strength to rebuild ourselves and look to the present and the future with hope.
Nowadays, our objective is to give back to parents and children their dignity through school, health, culture, sport, Francophonie.
We work a lot with children and seniors, always in collaboration with local churches and their leaders.
We also have a whole sponsorship program for 380 children by families in France, which is like a lifeline for these families.
Each year we send a container with clothes, school and teaching materials, hygiene products... which we distribute to the 380 sponsored children and their families. Four members of our association are currently in Armenia for this distribution.
In the summer we organize summer camps in the towns of Spitak and Shiragamout, which were the epicenter of the 1988 earthquake. But also in Stepanavan and Sissian for seniors.
Each year we offer a humanitarian tourism trip in order to discover the cultural and Christian riches of Armenia and get to know our solidarity programs.
Our group is currently in Armenia since June 25 and tomorrow, Saturday July 2, we will celebrate with our team from France, and our collaborators from Armenia our 30 years of existence and action (30 + 3 = covid obliges) .
A last drama has just struck Armenia: it is the terrible war in Artsakh of 44 days from September 27 to November 9, 2020 caused by Azerbaijan.
Results: the loss of nearly 5000 young soldiers and 3/4 of the territory of Artsakh. The Armenian people are endearing people. He needs your prayers and your solidarity!
Pastor Gilbert Leonian, Founding member of Hope for Armenia
Hope for Armenia is a member of the collective ASAH.