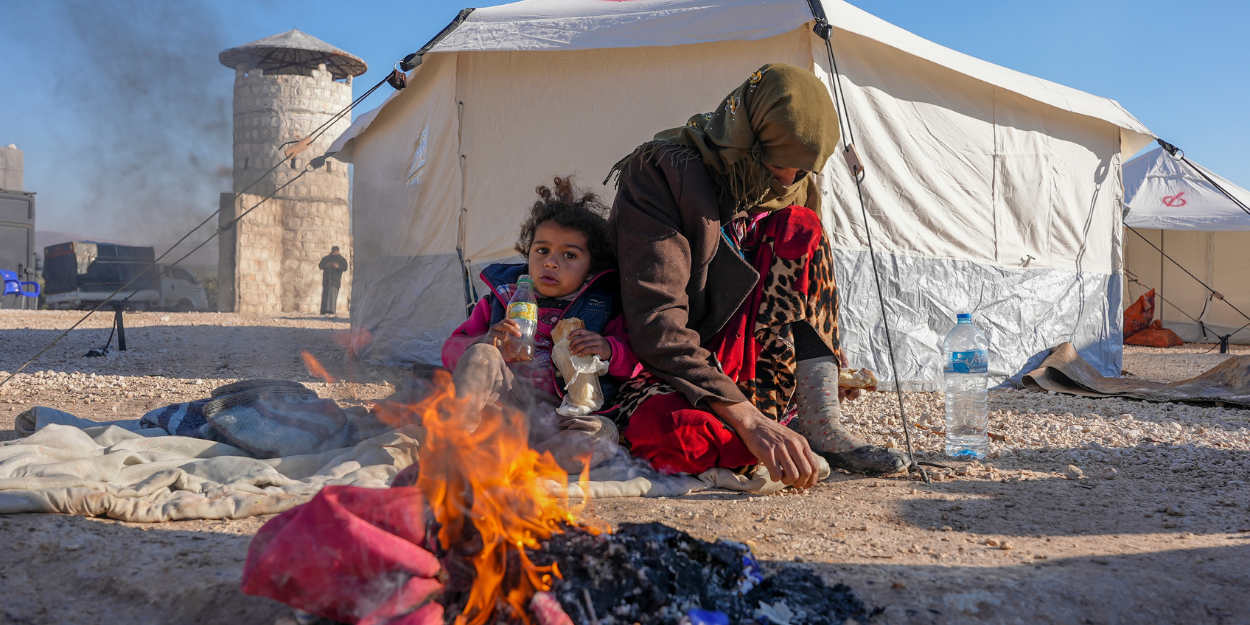 ---
It was in a camp for displaced people in northern Syria that Duaa al-Ghadbane found refuge, after losing her family and her home: the tents are now safer than the buildings weakened by the deadly earthquake.
In a small solid room topped with a canvas roof, the young woman sobbed nonstop and kissed the screen of her mobile phone, on which she showed the photo of one of her sons, who died after being extricated alive. rubble. "
Until now, I don't realize that I'm out, that I'm no longer under the rubble," says Duaa al-Ghadbane, who lost her husband and three children, the youngest of whom is just 40. days.
Like other survivors, the young woman with big black eyes took refuge in the Deir Ballout camp, near the Turkish border.
Because in their misfortune, the inhabitants of these hundreds of camps were relatively spared by the earthquake, the tents and precarious dwellings having resisted better than the buildings which collapsed on their inhabitants.
The violent earthquake that struck Turkey and Syria on Monday killed more than 17.500 people, including more than 3.200 in Syria.
Duaa al-Ghadbane lived in the border village of Jandairis, where dozens of houses collapsed.
"We have nothing left. We are crammed with my sister and her family, my brother and my mother, in this small room which belongs to one of our acquaintances", says the young woman, while her sister tries to calm her down.
"We don't want anything to eat or drink, just a place to take refuge," she added when the muezzin's call to prayer sounded.
She says her husband died hugging her son. "He was buried holding his son, he did not leave him," she says.
"The story repeats itself"
"The earthquake was terrifying, but the residents thanked God for living in tents after seeing what happened around them," says Fidaa Mohammad, a resident of Deir Ballout camp.
Nearly half of the roughly four million inhabitants of rebel-held areas in northern Syria are displaced, who have flocked as Bashar al-Assad's regime regained control of insurgent areas.
Like Ghayath Zarzour, who came to live in the same room in the camp with his two cousins ​​and their families.
Sitting on the ground, surrounded by a host of children, he has his head bandaged and his eyes swollen. "There are thirty of us in this room, without heating and without blankets", launches this man who can barely speak.
"History repeats itself. We fled with the clothes we were carrying on Damascus' backs, we were displaced so many times," he said.
Ghayath Zarzour had nevertheless considered himself lucky to be able to leave the camp where he had settled in northern Syria a few years ago, for a house in Jandairis, completely destroyed by the earthquake.
Those who did not seek refuge in the camps went to dozens of reception centers opened by local authorities.
In a huge tent set up in the city of Idleb, children stunned with fatigue sleep despite the din caused by others playing around them.
"There are a frightening number of people who are left homeless or who fear that their houses will fall on them because of the aftershocks," said Abdel Kader Taid, who works in one of these centers.
Others have chosen to take refuge in their cars, or to sleep under the stars under the olive trees despite the biting cold. "Our building is damaged, we can't go back there for fear of an aftershock," said Mohammad Hayyani, 50, wrapped in a blanket near his van.
"We are three families, some sleep in the car and others in the street".
The Editorial Board (with AFP)
Image credit: Rami Al Sayed/ AFP