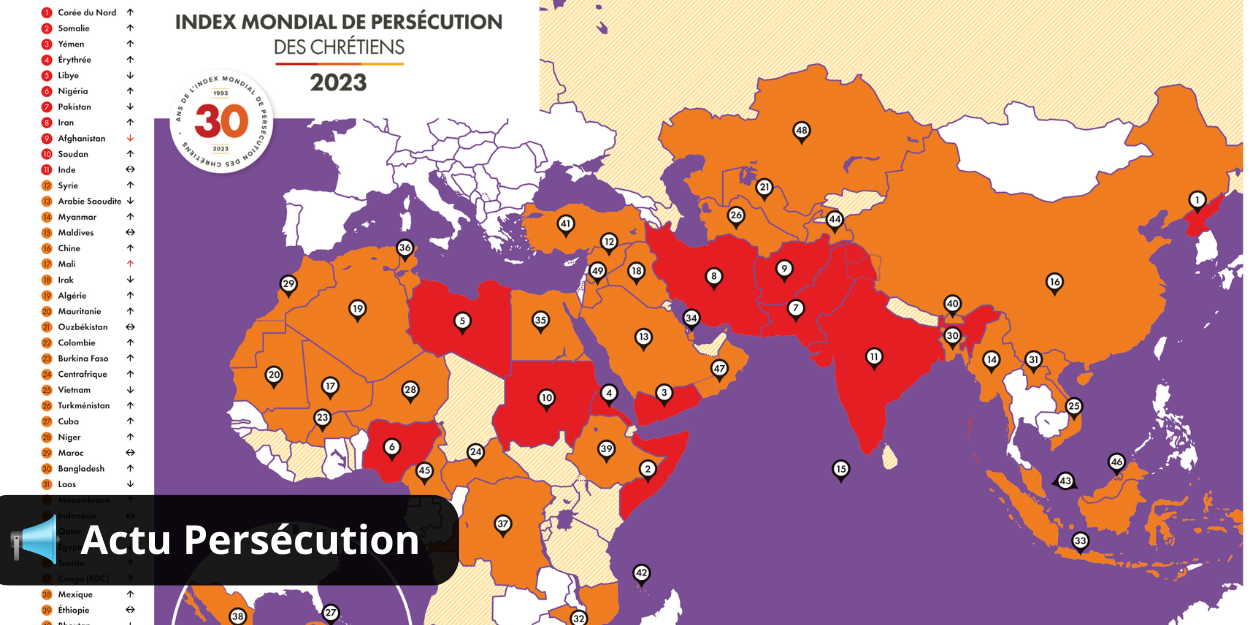 ---
The NGO Portes Ouvertes has just published its Global Index of the Persecution of Christians 2023 which reveals that more than 360 million Christians have been strongly persecuted or discriminated against in the world during the past year, which represents 1 in 7 Christians.
Every year for thirty years, the Portes Ouvertes organization has published its World Index of Persecution of Christians. Over the past ten years, the persecution has increased, and in 2023 it will reach a new peak.
According to this reference document, 360 million Christians are currently victims of persecution or discrimination in the world, which represents 1 in 7 Christians. By continent, this represents 1 in 5 Christians in Africa, 2 in 5 in Asia and 1 in 15 in Latin America.
Figures similar to those of last year, yet as stated in the report there is a growth of 0,7% of the persecution in the world.
The period taken into account for the establishment of the Global Christian Persecution Index 2023 extends from October 1, 2021 to September 30, 2022. During this period, 2 churches were targeted by attacks or by government measures. almost half of them in China and 110 Christians were killed, which represents 5 Christians killed per day. The organization specifies that their "estimates of the number of Christians killed are below reality" because these data "are particularly hard to collect".
Also, 4 Christians are detained because of their faith (the majority in India), while 562 Christians have been kidnapped (5% of them in Nigeria).
North Korea regains its place at the top of the ranking
North Korea held the top spot on the Index for 20 years, before being 'doubled' Last year by Afghanistan where many Christians had been killed and hunted down by the Taliban. In 2022, the country regains its place at the top of the ranking and achieves the highest score ever recorded in an Index country.
"If a Christian is discovered by the authorities, he is sent to a work camp for political prisoners, if not killed on the spot. [...] The number of secret churches discovered and Christians arrested (and therefore Christians killed) increased, leading to a further rise in the violence score – all other areas of life keeping a maximum persecution score . »
Somalia follows, then Yemen, Eritrea, Libya, Nigeria, Pakistan, Iran, Afghanistan and Sudan.
While Afghanistan has fallen back to 9th place in the Index, Open Doors specifies that "persecution remains at an extreme level in all areas of life for converted Christians of Muslim background" who risk death. they are discovered.
The situation therefore remains just as dangerous for Christians, although fewer of them have been killed by the Taliban, in particular because the majority have fled the country and the others have relocated, living their faith more than ever in hiding. In addition, according to Open Doors "it seems that the Taliban are now more focused on governance and consolidating their power rather than tracking down those who have 'deviated' from Islam".
Over the past thirty years, three trends have been observed.
"The African continent is marked by a rise in power of Islamic extremism", with 26 countries under heavy persecution compared to seven in 1993. "Christians are often the victims of religious or ideological nationalism", adds the NGO, citing the China, since 2017, or India, with an "explosion of violence" against Christians and Muslims since 2014.
Finally, the organization deplores "the Christian exodus" in the Middle East: "the abuses of (the organization) Islamic State have encouraged Christians to flee Iraq and Syria".
Asked to testify, Dabrina Bet Tamraz, a Christian Iranian of Assyrian origin who fled her country in 2009 recounted how "over the past four decades, Christians (there) have been harassed, imprisoned, interrogated and monitored in many ways ". According to her, "at least 80 Christians were arrested last year, sentenced to prison terms ranging from 2 to 25 years".
Camille Westphal Perrier (with AFP)