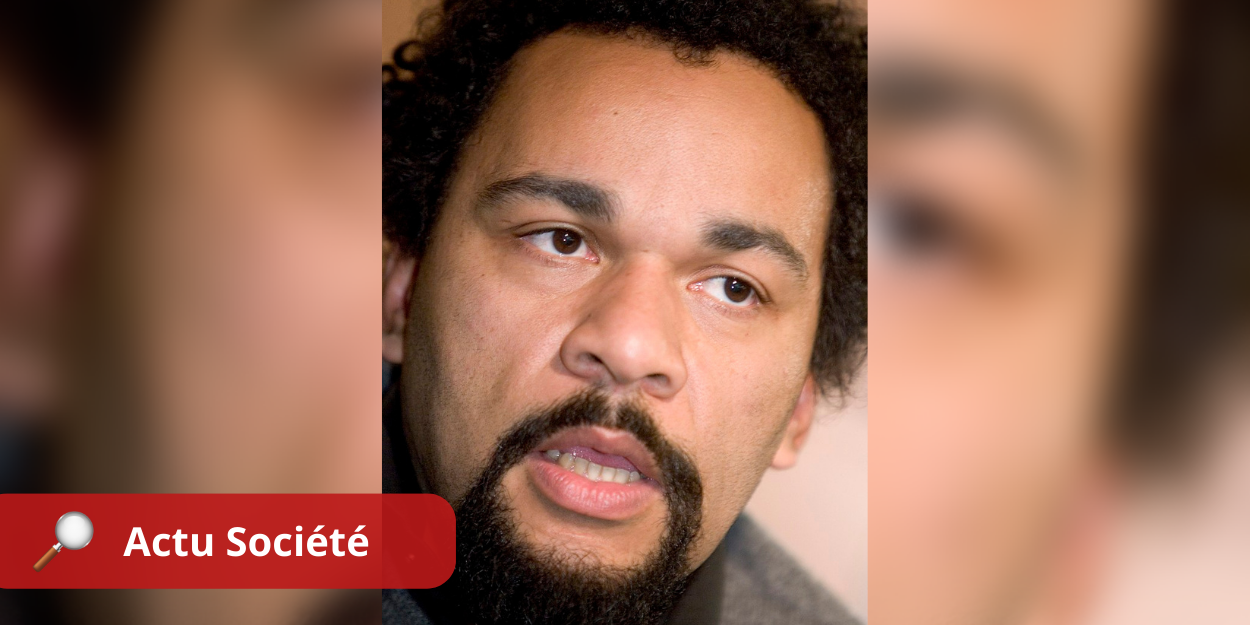 ---
Known for his provocative sketches which earned him several convictions for anti-Semitism, comedian Dieudonné Mbala Mbala created a surprise by publicly asking for forgiveness from the Jews in a letter published Tuesday, January 10 in Israel Magazine, explaining in particular his decision by his desire to leave the scene in peace due to his age and health.
Soberly titled " I ask forgiveness. Dieudonne », the letter asks: is the author serious? If so, is his request motivated by fear or is it a sudden contrition? He says he is at fault without attributing any responsibility to others.
However, he was in Switzerland on January 7 with the Association of Friends of Stéphane Blet, anti-Semitic pianist, to pay tribute to him one year after his death. Blet had notably implied that Jews were behind the Notre-Dame fire. Alongside the displayed regrets, would Dieudonné distinguish between the man and his ideas, while honoring him with a group that shares his ideas?
Dieudonné wanted to meet André Darmon, the director of Israel Magazine, according to Le Parisien, but the latter preferred that the controversial character write the text. It was Francis Lalanne, philo-Semitic singer and political activist, who sent the letter to the journalist and former president of the French-speaking community in Israel.
The comedian who was sentenced for having Holocaust denier Robert Faurisson acclaimed on stage in 2008, said he no longer thought he would speak in official media, but that the passage of time is shaking his certainties. He claims to ask forgiveness from people he has hurt with his "artistic gestures" and claims that his ambition was to make everyone laugh, including Jews:
"I am thinking in particular of my compatriots in the Jewish community, with whom I humbly admit having indulged in the game of one-upmanship. »
A dubious humor joining the anti-Zionism of the Iranian regime
Dieudonné has often hit the headlines and has been condemned in Switzerland and France, in particular for a sketch deemed negationist at first instance and on appeal in Geneva. His purpose is far from that of a Pierre Desproges whose 1986 issue, beginning with "They tell me that Jews have slipped into the room", denounced the anti-Semitic obsession in a tone of humor by pushing it back to its last centimeters of paranoia. If Desproges imitated the anti-Semites to make fun of their monomania, Dieudonné made negationist remarks to his characters, applauded, and claimed in court to make the distinction between him and them.
He also approached Iranian President Mahmoud Ahmadinejad, who called Israel a "cancerous tumor" and, in February 2015, he handed over to the former head of state a "gold quenelle", statuette displaying an arm gesture believed to be a Nazi salute in disguise.
From now on, he says, "I want to add my stone to the building of reconciliation in a context of exacerbated general tensions", before leaving for Cameroon. Ending his letter by thanking Israel Magazine for having published it, he presents himself as "an imperfect but sincere being who seeks to repair his errors and faults".
Jean Sarpedon
Image credit: Creative Commons / Wikimedia