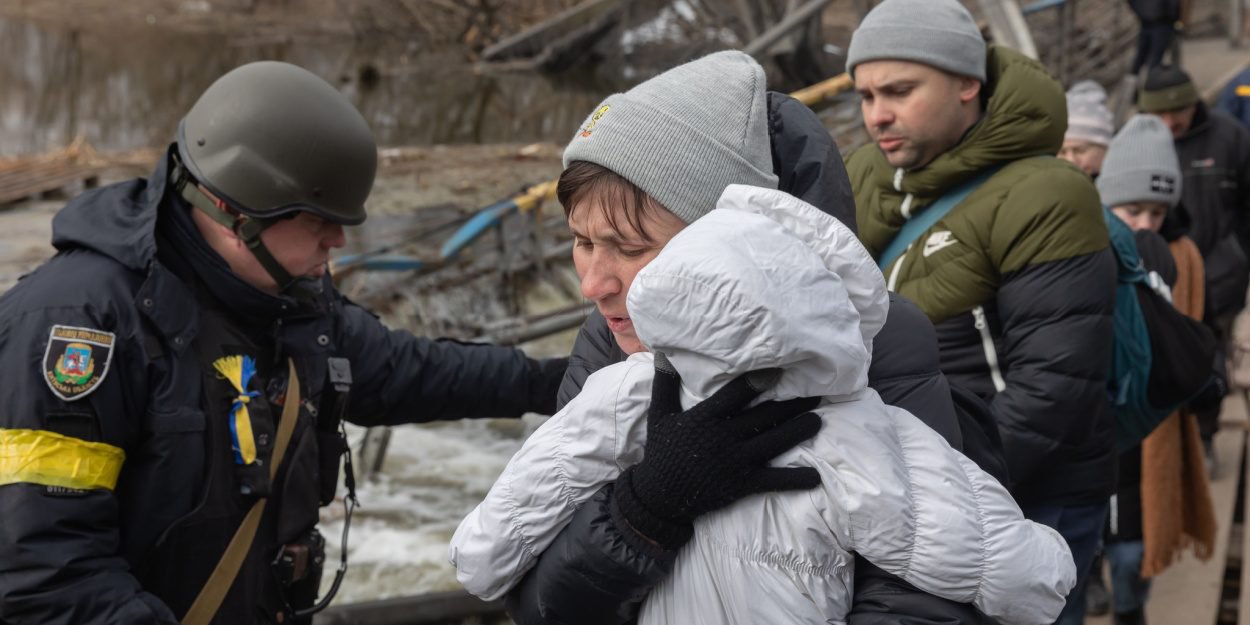 ---
As Russia launched "more than 50 cruise missiles" in a massive new attack on Ukraine's energy infrastructure on Monday morning, depriving part of the country of water and electricity, Christian missionaries from foreigners are mobilizing to help the population.
Russia hit energy facilities in Ukraine with "high-precision weapons", its Defense Ministry said on Monday, kyiv for its part reported a "massive attack" which notably led to water and electricity cuts. running.
"More than 50 X-101/X-555 type cruise missiles were launched using aircraft" of the Tu-95 and Tu-160 type from the northern Caspian Sea and Russia's Rostov region , said the Ukrainian Air Force on Telegram.
Agence France Presse reports that according to Ukrainian Prime Minister Denys Chmygal, who also spoke on Telegram, "hundreds of localities in seven regions of Ukraine" were deprived of electricity following these "massive strikes". » Russians.
"Russian terrorists have again massively attacked Ukraine. Their targets are not military installations, but critical civilian infrastructure," Chmygal said. "Missiles and drones hit ten regions, damaging 18 facilities, most of them related to the energy system," he added.
The mayor of kyiv, Vitali Klitschko, told him that 80% of consumers were deprived of water while electricity was cut for 350.000 homes in the capital.
On Tuesday, he said water and electricity supplies "have been fully restored", but scheduled power cuts will continue.
according to Oleksandr Kharchenko, director of the Energy Industry Research Center, "the situation is quite difficult".
"Up to 30-40% of the energy infrastructure has been damaged in one way or another. Together with the emergency services, we are renewing damaged substations," he said.
If he considers that the "energy system is manageable", he adds that "once the attacks have stopped", it will take "two to three months before the Ukrainians are no longer subject to restrictions".
At Jesus Mission in Ukraine
It is therefore a potentially difficult winter ahead for many Ukrainians. Tyler Ryals, volunteer for A Jesus Mission (AJM), explains that "what they could count on for the winter has been disrupted". "It is going to be difficult for many people to survive during this period," he continues.
In March 2022, Tyler joined other AJM missionaries in Romania where he oversees teams that drive vans around Ukraine to deliver essential supplies to areas hard hit by conflict.
He currently oversees a team of 40 volunteer drivers who take turns driving seven vans to distribute aid, particularly in remote villages near the front lines.
"I am nobody, we are nothing. We don't have qualifications, we just try to be present as we can, with food, water and wood stoves," he told CBN News.
" We are ready. We have all made this choice, it could cost us our lives but it is the right thing to do. In the end, we believe that God simply led us to do this, and that his promise is not to keep us alive, but to be with us" concluded the courageous volunteer.
Camille Westphal Perrier (with AFP)
Image Credit: Shutterstock /Drop Of Light / Irpin, Ukraine- March 9, 2022: Residents of Irpin have to abandon their homes after Russian strikes.