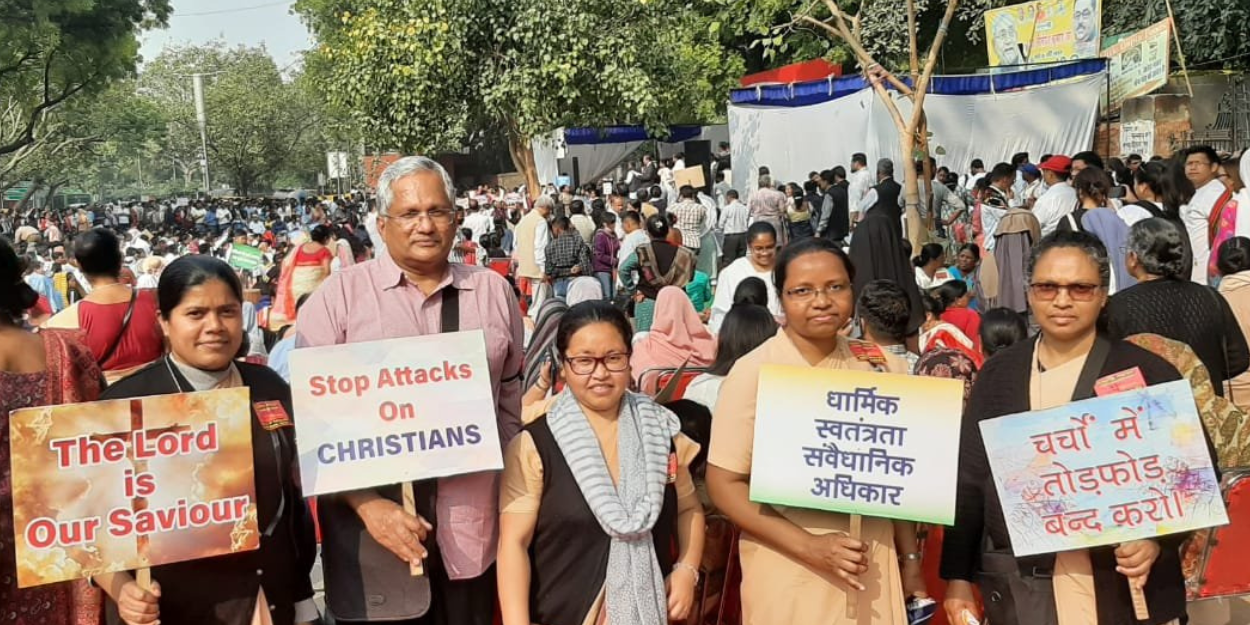 ---
"It is a cry from our people for their brothers and sisters who are suffering in the rural areas. (...) There is no other hope for us than to cry out to God to save us, and it is a loud cry."
On February 19, thousands of Christians gathered in New Delhi to demonstrate against rising hate crimes and discrimination against them.
Christians protesting in New Delhi on last Sunday against several attacks on Christians and their Churches in several states of India.@fiacona @elonmusk @bbc @BBCBreaking @cnnbrk @AlJazeera @AP @guardian @latimes pic.twitter.com/1T1Yahd5JS

— Mannil Mathai Abraham (@MathaiMannil) February 20, 2023
Coming from nearly 80 congregations, they notably shared their particular concern for Christians who live in states that have adopted anti-conversion laws.
Today there was a huge peaceful protest by the Priests, sisters and Faithful at #JantarMantar at Delhi. V Christians always stand for peace and unity. That's what V have learned from our Master Jesus Christ. We wil continue 2 serve our country. Stop attacks #Christians. pic.twitter.com/Xi9b9tOUoM

— Ambrose D (@Ambrosedivya) February 19, 2023
John Dayal, journalist and human rights activist, spoke on the spot. His remarks were picked up by the media The Wire. "The state apparatus has betrayed us, and we call on the government to take notice of the targeted attacks on the Christian community in several states, including Karnataka, Chhattisgarh, Jharkhand and Uttar Pradesh."
According to a recent report by the United Christian Forum (UCF), violence against Christians has increased by 400% between 2014 and 2022. 74 anti-conversion cases were filed against Christians in 2022, including only 56 in the Uttar Pradesh. In 2022, UCF recorded 598 hate crime incidents, including intimidation, mob attacks, brutal assaults, church vandalism and closings, sexual violence, social ostracism, denial of burial and false reporting under draconian anti-conversion laws.
Sister Anastasia Gill, a former member of the Delhi Provincial State Minorities Commission, spoke to UCA News about collective efforts for inclusive growth.
"Our Prime Minister talks about 'sabka saath, sabka vikas' [collective efforts for inclusive growth], but what is happening to the Christian community in the country?..., the growing incidence of violence against Christians is an unfortunate situation."
Speaking to Christianity Today, Delhi-based Malankara Syrian Orthodox Church priest Youhanon Mar Demetrios called on the government to protect Christians and their institutions.
"This demonstration is essentially aimed at drawing the government's attention to the growing violence against Christians and our institutions. These attacks are without reason or basis. Thus, we call on the government to ask how the protection of Christians and their institutions will be guaranteed. . We're not asking for anything out of the ordinary."
"It is a cry from our people for their suffering brothers and sisters in the rural areas," says Abraham Mathew of the National Council of Churches in India, "They have the right to believe in their God, but it is restricted. there is no other hope for us than to cry out to God to save us, and it is a loud cry".
MC