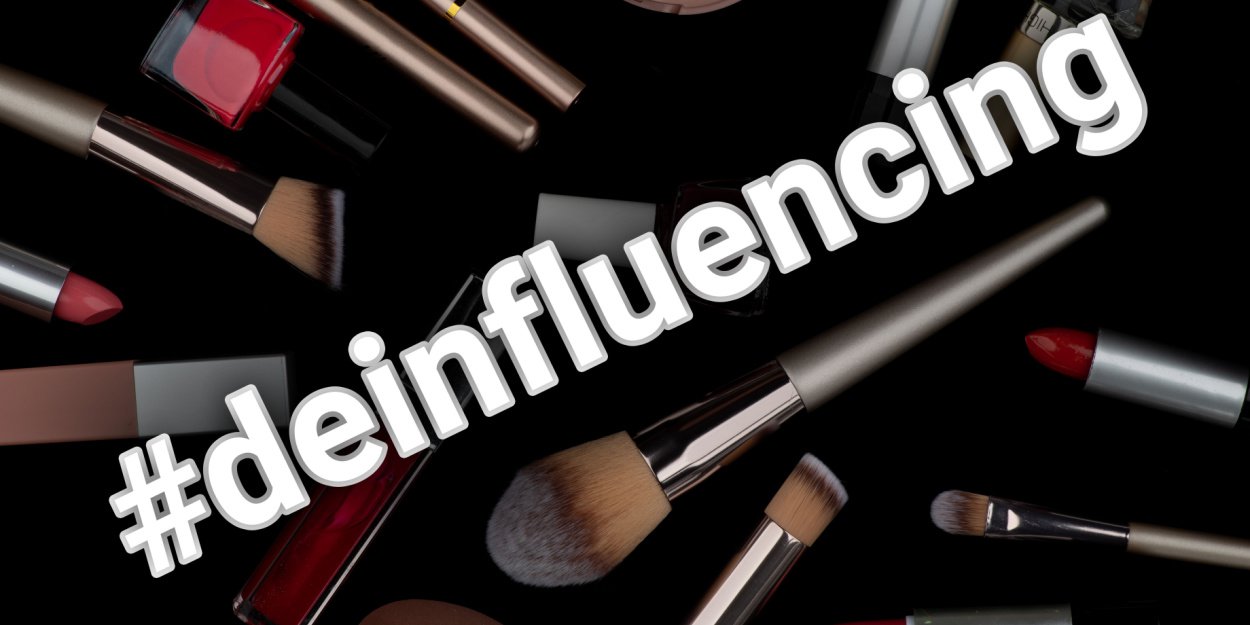 ---
Influencers have largely invested the digital sphere over the past ten years. With the rise of digital social networks such as TikTok, YouTube or even Instagram, they have acquired large audiences, from a few thousand to several million Internet users for some of them, in front of whom they share their passions, style of life or good tips and tricks.
While their power of influence is indisputable, their recommendations are today increasingly called into question. At the border between friendly advice and advertising, the practices of some influencers remain vague, ambiguous, even misleading. Scandals have erupted in particular concerning "dropshipping" abusive (purchase of products on sites to resell them for more on one's own online store), recommendations extolling the merits of a product that has never been tested or even purchased or even the promotion of scams.
While in France, the victims of influencers are organizing through the AVI collective, the resistance of Internet users is also organized via social networks: it is disinfluence.
Negative experiences
The hashtag #deinfluencing now accumulates more than 277 million views on TikTok (social network where this trend appeared). Deinfluencing is the latest digital trend in resistance to overconsumption.
It refers to the speaking out of Internet users who question their relationship to influence and overconsumption and who denounce practices of influence that are not very ethical, even fallacious. While social networks have allowed influencers (and to Brands) to produce an incessant flow of recommendations, their economic and environmental impact is questioned.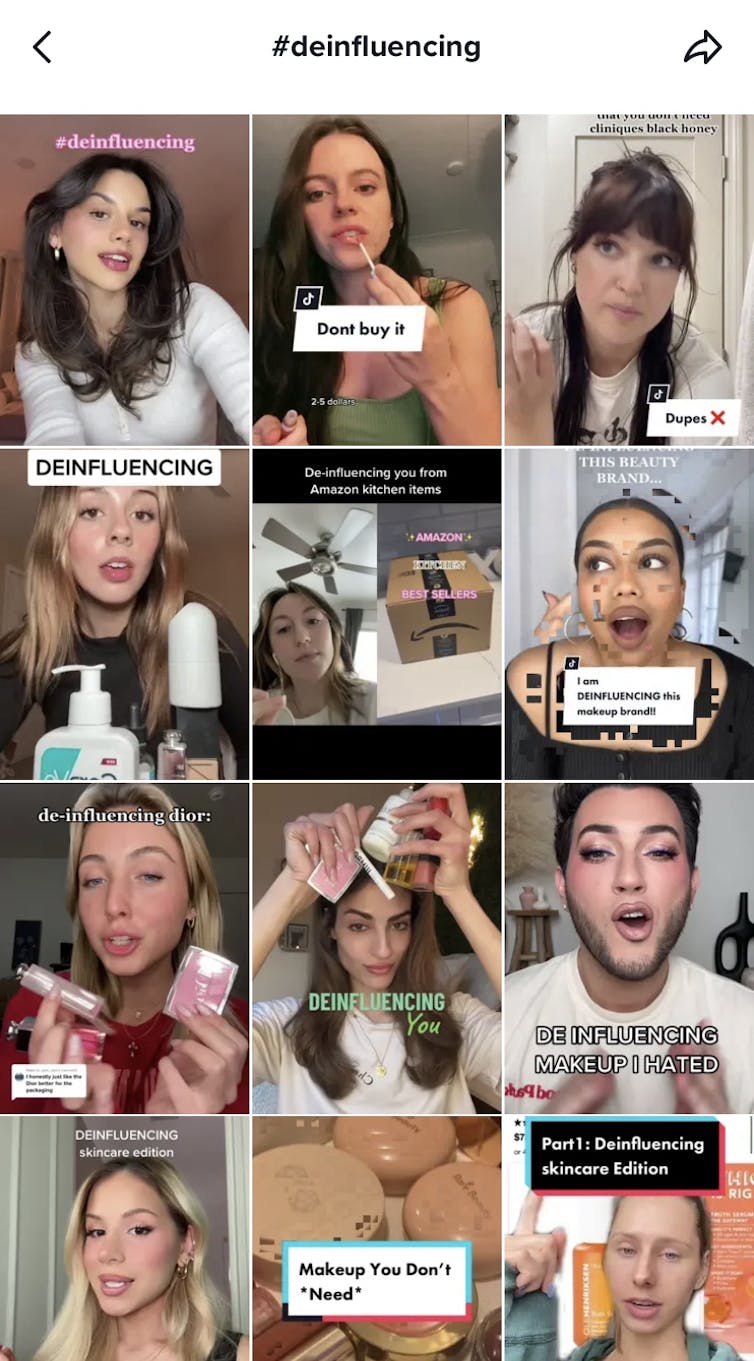 The content produced with this hashtag can take the form of lists of "trendy" products on the platform that they will not buy ("things you cannot convince me to buy") or even the sharing of negative consumer experiences aimed at convincing people not to buy these products.
So far very viral on TikTok, especially against certain beauty influencers, this movement could extend to other social networks and other areas in the face of influencers who are sometimes not very attentive to the products they recommend.
"Parasocial" relationship
Academic research makes it possible to better understand this consumer defense movement against existing attempts at persuasion on Social networks. Many sociological theories and marketing dealing with the virtual creation of social links and advertising practices shed light on this phenomenon.
First, influencers create a "para-social" relationship with their subscribers. This relationship is developed remotely with a media character. Although unilateral, it is based on the sense of intimacy and an emotional psychological bond. The audience believes and understands the media persona. Such a relationship can develop with TV series characters, artists and… content producers.
Several studies have shown that a parasocial relationship constitutes a powerful vector of purchase intention on social networks. Marketers have made the same observation, influencers have become a very popular advertising tool. Influencer marketing is an industry that goes beyond $16 billion in 2022.
This collaboration between brands and influencers can take many forms, such as free product shipments, sponsored videos, luxury trips… And it does not go unnoticed by consumers.
Feeling of betrayal
This questioning of the activity of influencers stems from a loss of consumer confidence, as well as an economic and ecological environment that seems more fragile and invites questioning. Consumers participating in the #deinfluencing movement are part of a form of rejection of disguised advertising content, often far removed from current sustainability values.
This loss of confidence can come from disappointments following the purchase of products, the increase in paid content or even the appearance of abusive practices. Thus, sponsorship is a source of mistrust on the part of consumers, because it becomes difficult to trust the judgment of an influencer when the latter is remunerated by the brand. The lack of transparency creates a feeling of defiance, even a feeling of betrayal.
We can take the recent example of Mikayla Noguiera, make-up artist and American social media star, who made scandal by making a product placement for a L'Oréal mascara considered misleading by Internet users (they suspected her of having used false eyelashes). THE scam and breach of trust rumors are also developing in France, which contributes all the more to this questioning of the credibility of influencers.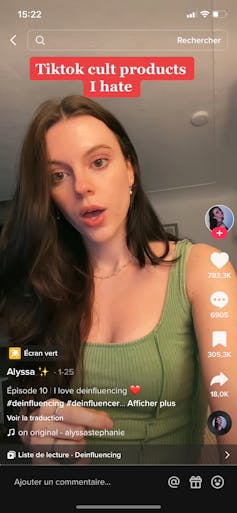 Beyond this problem of confidence in the performance of the products recommended by influencers, the latter, by becoming more professional, develop a lifestyle increasingly distant from that of their followers. They lose contact with them and no longer represent the consumer. Their status then approaches that of a brand ambassador, little connected to the real issues of their subscribers.
Recently, the cosmetics brand Tarte organized a very luxurious trip for a group of influencers to promote a product launch. This trip was decried by Internet users who saw a lack of sensitivity of the brand to ecological issues and the current economic situation (the influencers having been sent to Dubai by plane in business class and then accommodated in a luxury hotel).
Counter-speech
This tendency to disinfluence therefore aims to break the positive discourse of influencers on certain products, replacing it with a counter-discourse of ordinary consumers subject to constraints closer to the majority of consumers (budgetary, limitation of space of storage, consideration of ecology, etc.).
Better educated, consumers develop a growing awareness of the various attempts at persuasion to which they are subjected. When they perceive an attempt at persuasion, they will develop strategies to escape (zapping television commercials; changing radio during the commercial break, etc.). However, digital influence remains a relatively new tool in the history of advertising practices, because it is linked to the development of social networks. Knowledge of consumers and therefore their avoidance practices are still at the development stage.
This then echoes other phenomena of consumer resistance such as boycott, advertising avoidance techniques (ad blockers, zapping, etc.), anti-consumerist (or minimalist) movements or even illegal downloading.
Faced with deinfluencing, two axes are possible for brands: recreating trust and getting closer to consumer issues. This will be based on the one hand on impeccable transparency on the part of influencers but also on a clearer legislative framework which will protect consumers from abuse.
The very content of influencers is called upon to adapt by encouraging less unconsidered overconsumption, by making more complete analyzes (based on a product test carried out over a long period, showing different modes of use of the same product , contextualizing the performance of the product, etc.) or by promoting more sustainable purchases and limiting waste.
Camille Lacan, Lecturer in Management and Management Sciences, IAE of Perpignan, University of Perpignan et Alice Crepin, Assistant Professor in Marketing, ESSCA School of Management
This article is republished from The Conversation under Creative Commons license. Read theoriginal article.
Image credit: Shutterstock/TSViPhoto