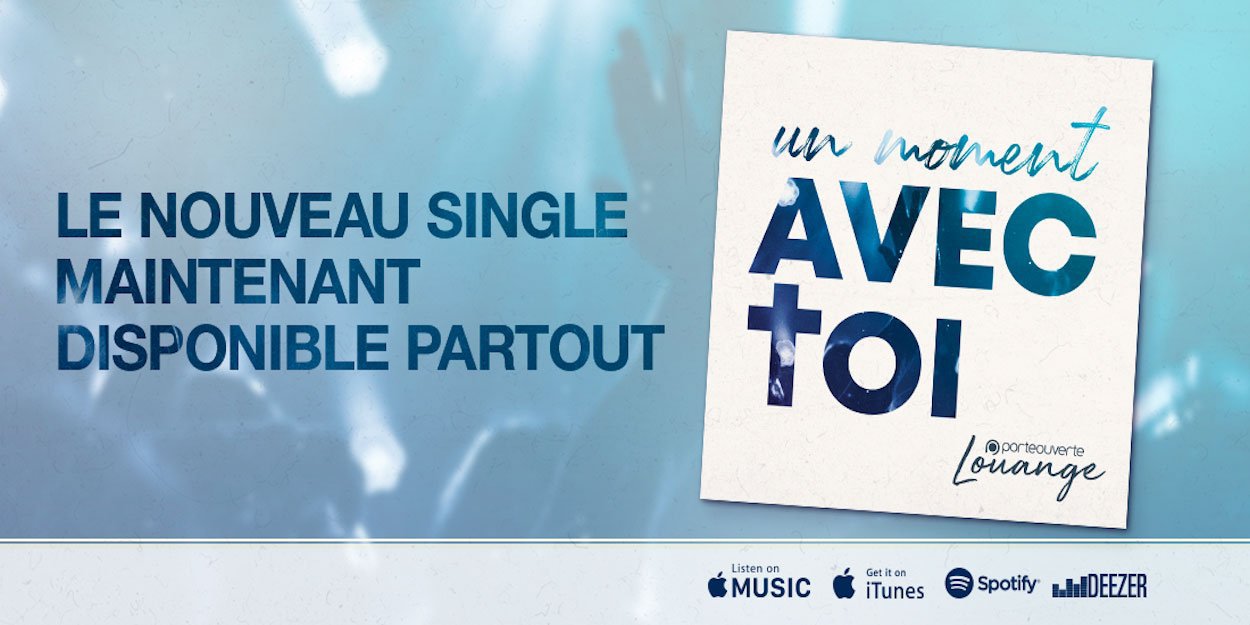 ---
Integrity Music announces new partnership and live album A Moment With You with the church La Porte Ouverte Chrétienne in France.
Integrity Music is proud to announce its new collaboration with Porte Ouverte Louange; the worship team at Porte Ouverte, one of the largest churches in France with around 2400 visitors every Sunday. The church was founded in 1966 by Jean and Suzanne Peterschmitt and is based in Mulhouse. Since then the Open Door has founded several other churches in France and is part of a large national network of churches.
Porte Ouverte Louange is made up of praise leaders Matthieu Kugler, Johanna Moulin, Geraldine Widmer, Jonathan Moulin, Claude Ekwe, Dana Jo and Stéphane Dockwiller… This new live album does not only capture the dynamic heart of praise of this passionate and growing church , but also features four new compositions written by members of the worship team and representing the heartbeat of what God does in the lives of those who call the Open Door their home. Title song A Moment With You is a powerful song of praise defining the theme of the entire album that will resonate for the Church around the world. In addition, the album contains five covers of well-known songs including the French version of the Hillsong classic. What A Beautiful Name, Christ Is The Light by Paul Baloche and Matt Marvane and As I Am (Just as i am), a song by Mahalia & Alan Jackson.
Matt Marvane, A&R Manager for Integrity Music shares:
"We are delighted that Porte Ouverte Louange is joining the Integrity Music family. Un Moment Avec Toi is such an important album for the French-speaking world because it represents thousands of people who are directly or indirectly attached to the Porte Ouverte Chrétienne church. I am convinced that this album and these songs will be a great inspiration and blessing for the listeners and the French-speaking Church. "
"I am honored because this album is the result of a collaboration with Integrity Music and a 'first' so to speak. For the first time, they are releasing an album from a church in France ", says Samuel Peterschmitt, pastor of the Open Door," their experience, their vision for praise and their huge network will make possible the journey of these songs through the France and will also bless our English speaking friends. "
Phil Loose, Managing Director for Integrity Music Europe comments:
"Our vision at Integrity Music is to help people around the world experience the manifest presence of God and provide resources for the church with songs of substance. We are honored to collaborate with the Open Door, this is the first time that we have done it in this way with a church in France, serving them in their vision. This is a remarkable time for us as a team and we pray, expecting beautiful spiritual fruits to come for the release of this album and these songs. "
A Moment With You, the single has been available since August 30, with the album to be released on October 11 on all territories and platforms.
For more information, please visit Facebook and Instagram.
Article transmitted by Jonathan Moulin