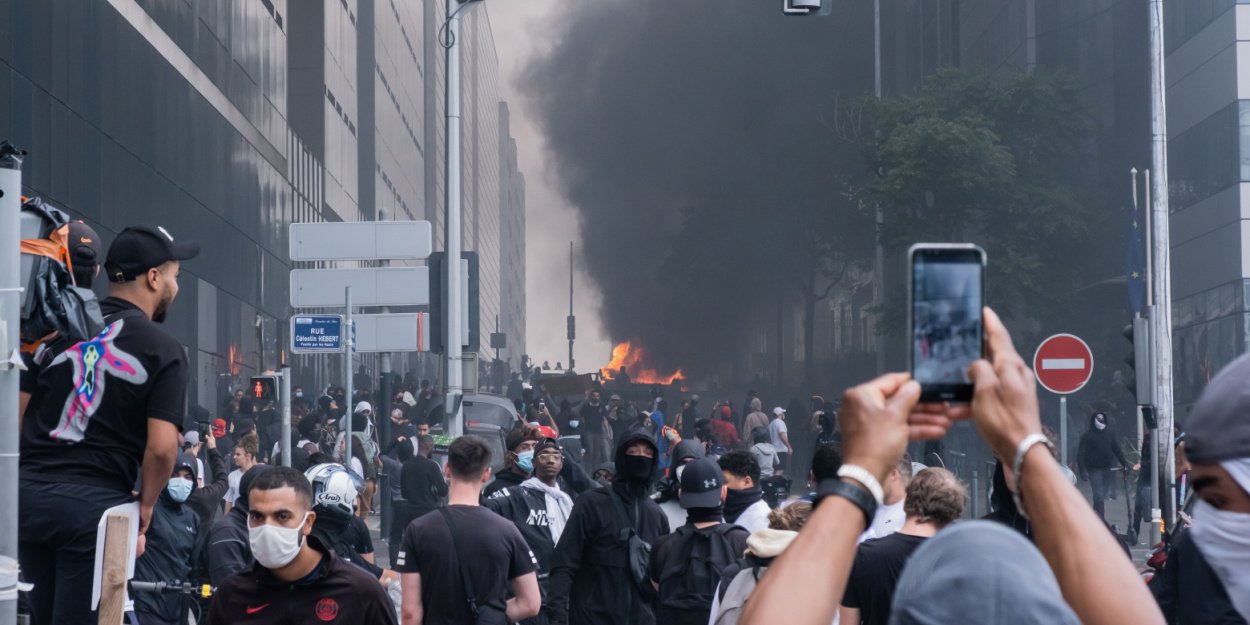 ---
The death of 17-year-old Nahel M. killed by a police officer during a traffic check on Tuesday June 27, 2023 in Nanterre, led to riots whose scale and gravity (fires, looting, destruction, attacks on public and private buildings) plunged France into a strong shock. The question of knowing how we were able to get there becomes essential, because the search for remediation depends on knowing the causes.
Among these, many social actors mentioned educational problems. The President of the Republic called in this sense "all parents to responsibility". ". The Minister of Justice issued a circular inviting legal action to be taken against parents for whom "serious breaches of their legal obligations could be observed". The France Police organization went so far as to stigmatize Nahel's parents, "unable to educate their son".
A school fracture
The first fracture manifests itself in terms of inequalities, school and university results. It is a well-established fact, which has been the subject of innumerable research and analyses: France is one of the countries where social origin weighs the most on performance and academic and then social trajectories. This is evidenced, for example, by the results of the PISA survey conducted by the OECD. The intolerable waste of academic failure primarily affects children from underprivileged backgrounds. And, over the years, inequalities linked to social origin do not seem to have changed significantly.
This is reflected in school geography, with phenomena of segregation between establishments. According to the dominant public (advantaged vs. disadvantaged), real gaps have opened up between establishments of excellence and ghetto establishments. And it is in the "districts" that the establishments in greatest difficulty are found. The need to increase school diversity is therefore undeniable.
According to one research note published in April 2023, the social mix programs tested over the past eight years have positive effects for all college students, regardless of their social status, in terms of perception of the social environment, relationships with their friends, and attitude towards live group work for some (disadvantaged); school self-esteem, quality of relationships, and solidarity with others. But the observed effects are much less academic (learning) than "non-academic" (well-being and integration).
It must be recognized that the successive leaders of the education system have tried to do so, but with varying success. The fight went through the creation in 1981 of priority zones (ZP), which in the 90s became priority education zones (ZEP), the map of which was revised in 2014 with the creation of priority education networks and should be revised again in 2023.
The fight also went through fighting card bypass strategies. And, recently, through the reform of the assignment of pupils (Affelnet platform), or the consideration of social position index (IPS).) of students and, above all, of establishments. This tool, set up in 2016 by the national education system, makes it possible to determine a social profile, evaluated according to social, cultural and economic criteria. It is thus possible to act on the allocation of students by taking into account both their personal IPS and the average IPS of the host establishment.
However, insofar as educational inequalities are, for a significant part, only a reflection of social inequalities, it would be necessary to be able to fight directly against them. We cannot ask the education system what it cannot do. It is illusory to hope to act on inequalities of success without acting upstream, and strongly, on social inequalities.
An educational divide
If the riots raise questions about the education system, they undoubtedly call into question family education more strongly. At stake are values ​​and principles transmitted in childhood, and to which, perhaps, some young rioters had no access.
How, indeed, to understand that teenagers can feel authorized to terrorize the population; to attack property and people. To destroy, to steal, to burn, to ransack. By prioritizing the "common", to everything that makes life easier, even more pleasant, on a daily basis, and allows people to live together and grow: town halls, neighborhood centres, association premises, public transport, libraries, gymnasiums.
There seems to have been a break in the transmission of priorities among some people. Through the (bad) fate of the common people, it is the articulation between family education and citizenship who is questioned. The factors to be taken into account would require lengthy analyses, sociological, but also economic, and cultural. This is why we will limit ourselves here to the point of view of educational action and its conditions of possibility.
Participation in the riots could testify to a certain educational failure. There is no question of overwhelming the mothers who, in single-parent families, exhaust themselves creating the conditions for a dignified life for themselves and their children. But should we not take note of the capital importance of what Pierre Bourdieu called the habit, "system of patterns of perception, thought, appreciation and action", that everyone builds, within their family, in their very early childhood? And recognize that some children unfortunately suffer, from this point of view, from a double deficiency?
The first results from a failure in the embodiment of parental authority. Pole whose principles everyone must integrate in order to be able to self-regulate their behavior ("A man, it is prevented", wrote Albert Camus), without becoming the plaything of his fantasies and outbursts. A society "without a father", that is to say without someone who resolutely takes charge of the pole of authority, capable of prohibiting, wisely (namely when respect for others is at stake), can only sink into destructive madness. Drunk with what Hegel called the freedom from the void. The second deficiency is then constituted by the absence, which results from it, of a framework engraving in stone what the duty of respect for others, whatever the circumstances, imposes on us (to help), or prohibits us (to make suffer , despoil, destroy gratuitously).
The participation, or not, in the riots, seems to us to clearly indicate that a fracture has been established between those who have benefited from landmarks in the family framework, and others who seem without horizons. Between those whose family education has enabled them to integrate the need to "hold back"; and those who weren't so lucky. Reducing this divide requires immense work. The testimony of so many people brought up by wonderful mothers shows that it is not impossible.
A cultural divide
The third fracture is arguably the hardest to pin down with composure. All education involves a cultural horizon. We educate and we train to prepare to live in a community governed by common values, and accepted by all, otherwise there is no common life possible. This base of values ​​corresponds to a common imagination, that of a society where it will be possible to live together in a peaceful, even happy way. In respect of differences but also of the founding values ​​of society, and which mark its identity.
However, one can wonder if we still have a common cultural horizon, which would found both the possibility of a "national" education, and of a peaceful "living together". Admittedly, there is undoubtedly always a plurality of cultural horizons, according to ideological or religious affiliations. But the riots raise questions about the persistence and true strength of what has constituted the republican imagination since the end of the Second Empire.
This imagination crystallizes in the representation of a society governed by values ​​such as "Liberty, Equality, and Fraternity". Such a set of values ​​making possible, beyond all the particularities, and the diversity of opinions, religions, and behaviors, life in common.
Couldn't we go so far as to wonder if this republican ideal is not in competition with a new, emerging imaginary: an imaginary, in a way postcolonial, of redemption or revenge, demanding in a way that is as brutal as it is almost impossible to satisfy, a reparation, which would begin with the destruction of all the symbols of the formerly colonial State. In the bosom, however, of which we live.
This is, of course, only a hypothesis. Postcolonial imaginary versus republican imaginary? Destructive radicalism of those who thirst for revenge and reparation, against the republican imagination of those who only want to live in peace? The hypothesis is frightening, and would in any case require a lot of work to be validated. But shouldn't we dare to face it? Because what is at stake is the possible contribution of educational work to the construction and recognition by all of a common horizon.
Charles Hadji, Honorary Professor (Educational Sciences), Grenoble Alpes University (UGA)
This article is republished from The Conversation under Creative Commons license. Read theoriginal article.
Image credit: Shhutterstock/PVNF