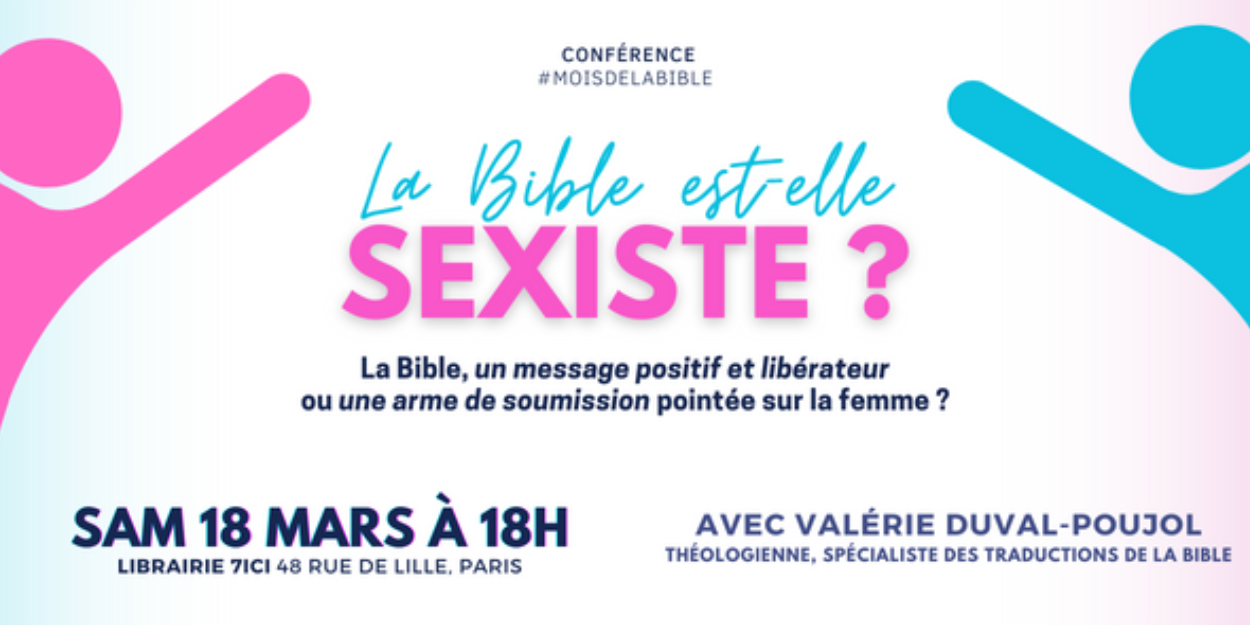 ---
"Is the Bible sexist?" is the title of the book by Valérie Duval-Poujol published in 2021 and the subject of the conference organized by the Protestant bookstore 7ici, Saturday March 18 in Paris.
The Protestant bookstore 7ici is organizing a conference with Valérie Duval-Poujol, around her book "La Bible est-elle sexiste?", to which InfoChrétienne has dedicated an article. In this book, the author believes that despite the patriarchal culture in which the Bible is rooted, it nevertheless conveys a liberating message for women.
Valérie Duval-Poujol holds a doctorate in the history of religions and theology and is the author of several books. She teaches textual criticism and the Septuagint at the Catholic Institute of Paris as well as being a translator of the Bible and vice-president of the Protestant Federation of France. She is part of the association for raising awareness of domestic violence and feminicides "A place for them".
The Protestant bookstore 7ici insists that her book offers a renewed reading of biblical texts that encourages women to fully realize their vocation. The author demonstrates that no one can claim the Bible to gag them in the Church, society or impose any marital submission on them.
"A theological and exegetical approach that reveals erroneous biblical interpretations for a more just position on this essential issue of gender equality."
The conference will be held in the premises of the Protestant bookstore 7ici at 48 Rue de Lille in the 7th arrondissement of Paris, on Saturday March 18, 2023 from 18 p.m. Admission is free and does not require registration.
Salma El Monser