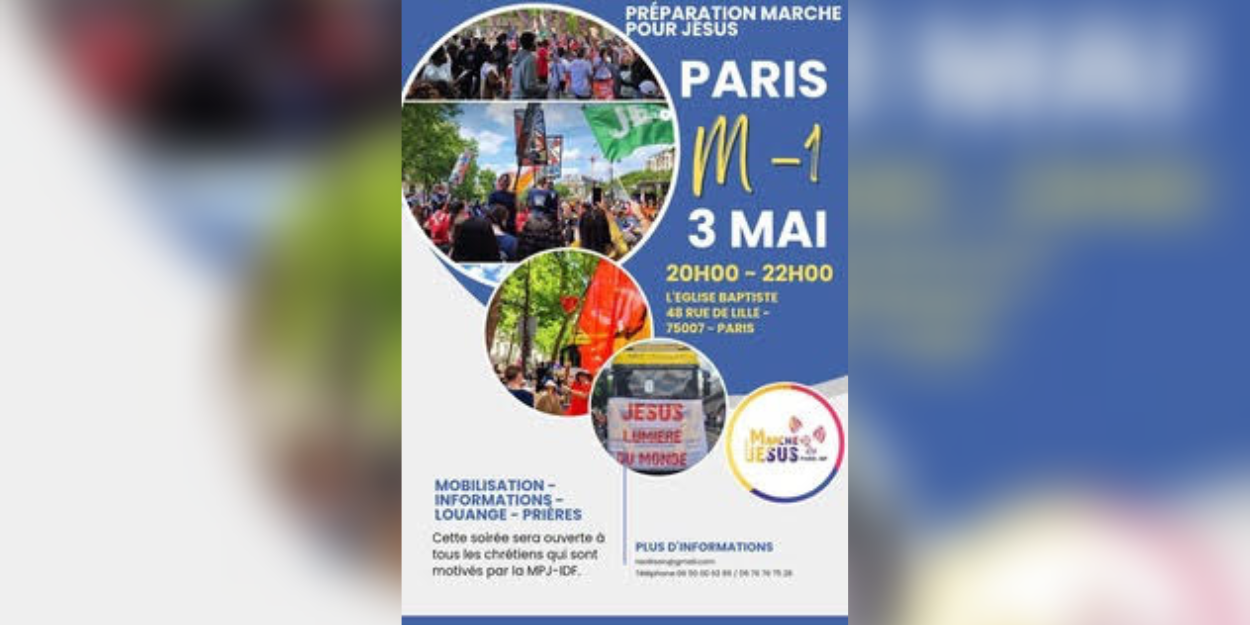 ---
All Christians are invited to participate, tomorrow, May 3, 2023, in the preparation of the March for Jesus, which will take place on June 3, 2023, to organize this march and ensure that it is a success.
A preparation evening will be organized by the March for Jesus Ile de France, Wednesday, May 3, 2023, to prepare the next March for Jesus scheduled for Paris on June 3. The meeting is given at the Baptist Church in the seventh arrondissement of Paris, from 20 p.m. to 22 p.m., to prepare for this highlight of the calendar!
During this meeting, which will take place 30 days before the March, the various participants will discuss the details of the march and the various tasks to be carried out to ensure the smooth running of the event.
The president of the March for Jesus in Île-de-France, Pastor Gilbert Léonian, appeals to Christians in the region to come in large numbers and contribute to the preparation of this beautiful initiative.
An evening under the sign of enthusiasm, as Pastor Gilbert Léonian, responsible for the event, reports:
"After the great encouragement of the March of 2022, we are experiencing a great dynamic for 2023."
This event is a unique opportunity to celebrate our faith in Jesus Christ and to promote Christian unity in our community.
The Walk for Jesus planned in different cities and departments, especially in Paris, Strasbourg, Nantes, Lille, Metz and La Guadeloupe, offers Christians of all persuasions an opportunity to come together for praise, prayer and the proclamation of the Word of God. This collective approach will make it possible to meet fellow citizens and publicly bear witness to their faith in Jesus Christ.
More information for this evening: [email protected] / 06 50 00 62 89 - 06 76 76 75 28
Salma El Monser