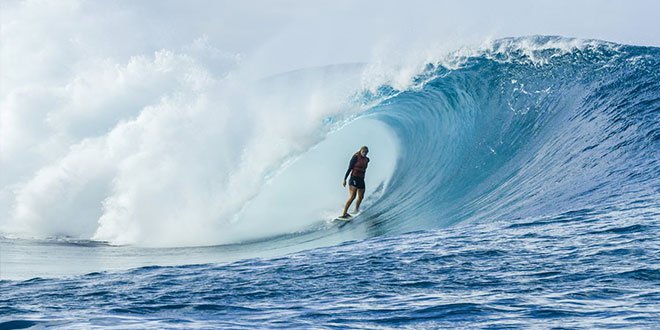 ---
Every year, in June, one of the stages of the world surfing championship in Fiji, the Fiji Pro, takes place.
L26-year-old Christian professional surfer, Bethany Hamilton, competed in this pro competition this year. She reached the semi-finals of the event, knocking out world No.1 and series leader, six-time world champion Tyler Wright. She finally bowed at the gates of the final, in front of the French Johanne Defay.
.@bethanyhamilton finishes in third place after an amazing run at the #FijiPro https://t.co/EiwHhEJRqX pic.twitter.com/0w5pvbX1zP

- World Surf League (@wsl) May 30, 2016
Bethany, is known on the circuit for her incredible talent but also for her extraordinary figure. She is indeed amputated of her left arm following a tiger shark attack in Hawaii, when she was only 13 years old. Despite losing 60% of her blood and her entire left arm, she was back on a surf, just a month after the attack.
But what characterizes Bethany is also her faith and her testimony in the media. She regularly gives glory to the Lord for her victories. At an event in 2015 she said she found her strength in her two favorite verses.
"My flesh and my heart can be consumed: God will always be the rock of my heart and my share. "
Psalm 73: 26
"For it is by grace that you have been saved, by means of faith. And it doesn't come from you, it's the gift of God. "
Ephesians 2: 8
"God accepts us as we are. When we become Christians, he gives us this gift of faith which is such a blessing and which can help us through the most difficult times. "
The surfer knows that she can now be a source of encouragement and an example for many.
"Despite losing my arm, I continue to pursue my goals and more. I think I am an example for young girls. They know they can achieve their goals if they stay focused on Him. "
Bethany is now a champion and the happy mother of little Tobias, who accompanies her around the world.
Tobias is one! It's been so much fun watching him grow & to have adventures together. On to more fun as a family! pic.twitter.com/1mIhW88wxZ

- Bethany Hamilton (@bethanyhamilton) June 1, 2016
HL