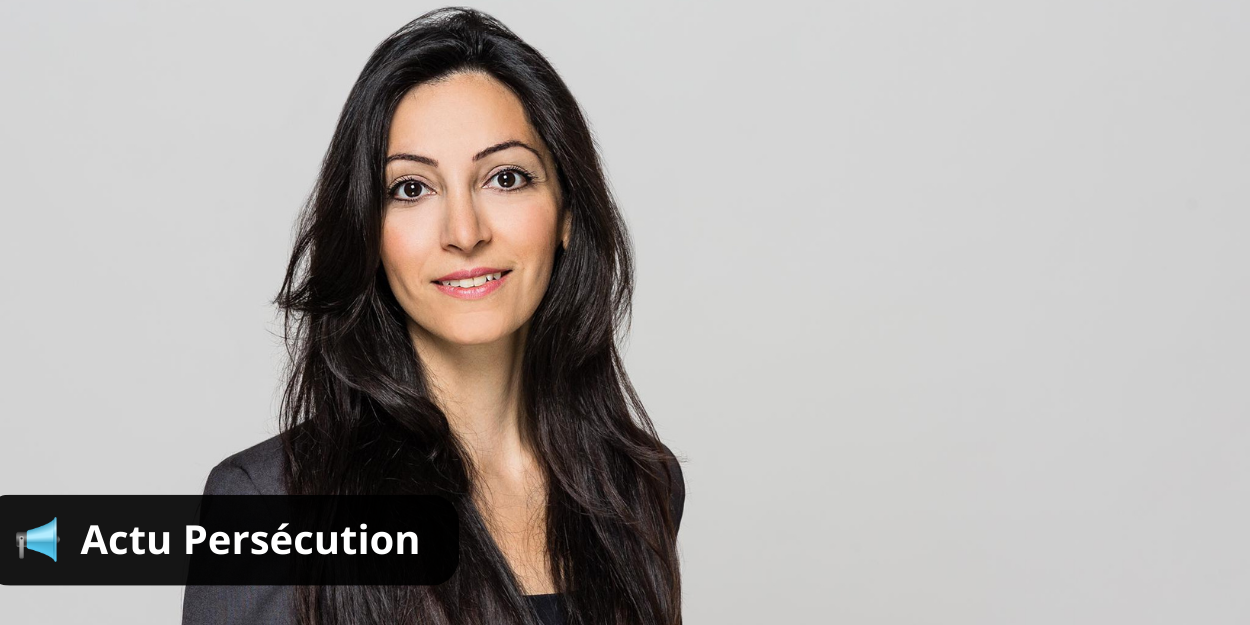 ---
On the occasion of the presentation of the Global Index of the Persecution of Christians 2023, InfoChrétienne met the Iranian evangelical pastor Dabrina Bet-Tamraz. The 37-year-old young woman who fled Iran in 2009 because of her faith, has testified and campaigned tirelessly for freedom in her country. She told us her story.
Since the death of Mahsa Amini, a young Iranian woman who died last September after being detained by the morality police, Iran has experienced massive demonstrations that nothing seems to be able to stop. Despite violent government repression and executions, people continue to protest in the streets.
It is in this context that the NGO Portes Ouvertes, which presented its 2023 World Index last week, highlighted the living conditions of Christians in the country (ranked 8th in the Index) and invited Dabrina Bet Tamraz, Iranian pastor of Assyrian origin, to testify.
Persecution, a habit for Christians in Iran
The 37-year-old human rights activist who fled Tehran in 2009 recounted how "over the past four decades Christians have been harassed, imprisoned, interrogated and monitored in many ways". She spoke with emotion of the persecutions endured by the minority, explaining that this situation had become a habit, to the point that she had come to believe that it was normal.
"I thought it was normal that my father, a pastor, disappeared just before the service. That it was normal to be called in twice a week for interrogation, that cameras were installed right in front of our house, that our church was closed, that I was constantly threatened with being raped, tortured, imprisoned or hanged. »
Dabrina told us that she grew up knowing there was a price to pay for her Christian faith.
"We knew there was a possibility that my parents would be killed. And we had to be calm and at peace with that. I grew up knowing that me or a member of my family could die for their faith, that we would probably go to jail and be persecuted for what I believe. »
Yet, despite the danger and the fear, the young girl grew up with this faith in her body, determined to follow the example of her parents. After high school, she lived for several years in England to study theology there before returning in 2007 to her country to study psychology, while working in a church.
"My dream was to become a Christian psychologist in Iran. It was my home and it's where I wanted to live. »
Already twelve years of exile
However in 2009, the noose is tightening for the country's Christians. In March, the government shut down his church and soon after they came to the university to interrogate him. In the same year Dabrina was expelled from the university and threatened with five years in prison.
In 2010, she made the decision to leave, "just for a few months".
"When I got out of prison, I had two days to leave the country. I packed a suitcase and left. She talks about the shock she felt when she got off the train when she arrived in Switzerland, trying to convince herself that this situation would only be temporary.
"I had to leave, just long enough for the situation to calm down and for me to go home." It was twelve years ago. She hopes to one day be able to return to Iran, "when the country is free". For the time being, the young woman is considered a terrorist and knows that she risks spending years behind bars if she sets foot on Iranian soil.
Finally, it is in the Swiss confederation that she settled. She managed to finish her studies, a master's degree in business and management. Today, she divides her time between an evangelical church where she works as a pastor and a position as a consultant to help Iranian political refugees.
"Fear doesn't work anymore"
About the current situation in Iran, she confides to us that she is "very optimistic" for the future, believing that the uprising we are witnessing today will bring about change.
"People have had enough, fear no longer works to silence them. The next generation does not want this regime. »
"They officially killed 500 people, although it's probably a lot more. And yet the people continue to protest and take to the streets. Fear no longer works because people are tired, they want change," she says.
According to Dabrina, Iranians, especially Christians, have accepted an unacceptable situation for too long.
"We didn't raise our voices. We have not documented the repression. We accepted the situation. When they started closing churches, other pastors just kept quiet, thinking theirs would stay open. And it is our surrender that allowed them to continue this persecution. »
woman, life, freedom
So today, she decided that she would no longer be silent. At the White House, at the UN, she tirelessly bears witness to what Iranian Christians are going through in her country. While she is currently talking about the "small steps" being taken to help them, she believes that her voice, like that of other Iranian human rights activists, is beginning to be heard internationally and rejoices.
For the future, "everything is possible" affirms the evangelical pastor who underlines that the Iranians must unite, put aside their differences and their religions to unite. Finally, she quotes the slogan of the Iranian demonstrations, "Woman, life, freedom".
"That's what we want, freedom for all!" ".
Camille Westphal Perrier