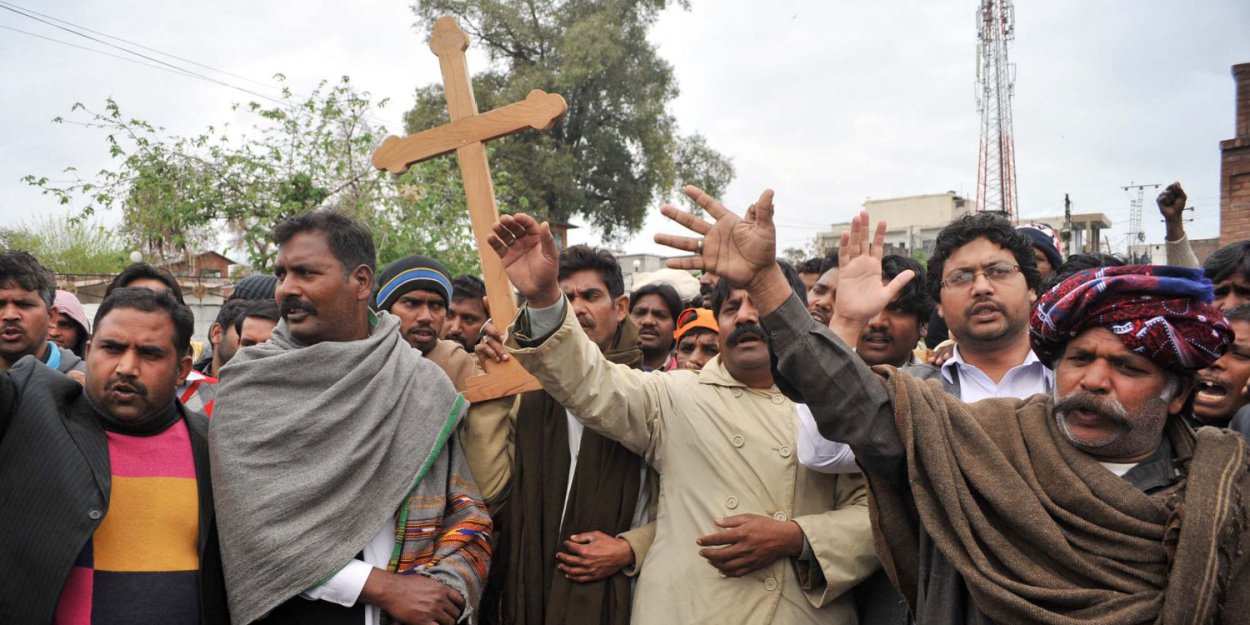 ---
An investigation is underway into a dozen people who on Wednesday in Pakistan incited Muslims to demonstrate against Christians accused of blasphemy in a Punjab town, a senior police official said. .
On Wednesday, hundreds of people of the Muslim faith, armed with sticks and stones, had swept through the alleys of the Christian quarter of Jaranwala, in the suburbs of the city of Faisalabad (east). Some 87 homes and 19 churches were destroyed, in particular by fire.
It had been announced over the loudspeaker that the Koran, the sacred text of Islam, had been desecrated by Christians. A cleric had notably called on "all Muslims to unite and gather in front of the mosque". "Better to die if you don't care about Islam," he said.
Punjab police chief Usman Anwar said in an interview with AFP on Friday night in Lahore that he and eleven other people were being investigated for using loudspeakers. mosque speakers.
"This cleric should have understood that bringing people together in such a tense environment, in a country where people are already very sensitive to blasphemy, is like throwing oil on the fire," Usman Anwar said.
"He's not saying you have to go and burn their houses. But when the mob gathers, it's really impossible to control it," he said.
Two Christian brothers were later arrested after torn pages from the Koran scrawled with words offensive to Islam were pasted on the walls of a neighborhood mosque in the early hours of Wednesday morning.
Up to 5.000 people from other neighborhoods had flocked to Jaranwala, infiltrating the narrow streets and ransacking houses.
Hundreds of Christians who had fled their homes, some finding refuge in the homes of their Muslim neighbours, blamed the police for failing to protect residents' property.
Become "more tolerant"
"If the police had started beating, attacking (the crowd) or using tear gas, there would have been many injuries or even deaths. And that's what we wanted to avoid at this time. This would have aggravated the situation which would have spread to the whole country", defended the police chief.
"Negotiations with religious leaders resulted in calls for calm," Usman Anwar said.
More than 125 people were arrested in connection with the acts of vandalism through the use of facial recognition technology, geo-tracking of mobile phones and data collected from social media.
According to the policeman, it is the responsibility of the religious and the government to ensure that religion is not misused. "The most important thing is that we Muslims in this country become more tolerant."
"The events that have unfolded are tragic. Such violence can never be justified," he concluded.
Christians, who make up around 2% of the population, occupy one of the lowest rungs of Pakistani society and are frequent targets of spurious and unfounded blasphemy allegations.
The Editorial Board (with AFP)
Image credit: Shutterstock/Asianet-Pakistan