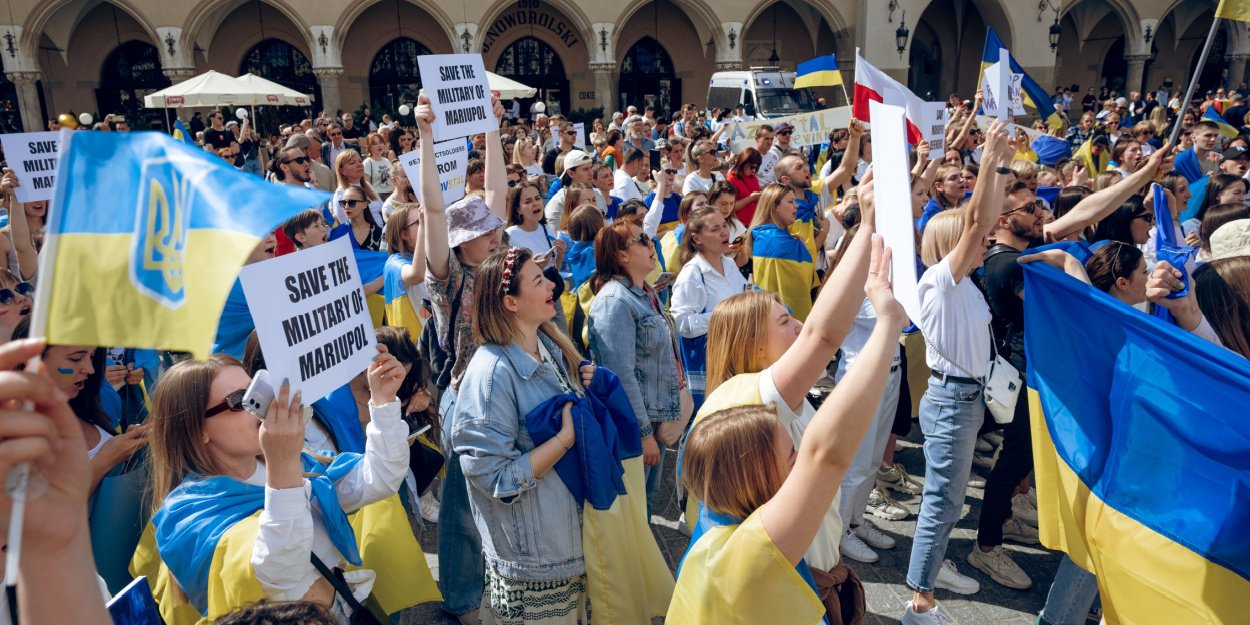 ---
Ukrainian flag on the back, Olena Shevchuk found, for a few days, the taste of the party at the World Youth Days in Lisbon. But the pain of the war ravaging his country does not leave his thoughts.
"It's very difficult for us to understand that life is normal here," said AFP this 24-year-old student who came to participate, like some 500 Ukrainians, in this large international Catholic gathering around Pope Francis.
Like the airliners flying low in the Lisbon sky, she had "lost the habit" of scenes of daily life in a peaceful European capital since the invasion of Russian troops in February 2022.
"Here there is music everywhere, cafes and restaurants are open at night, you can go where you want", a reality that contrasts with the curfew imposed every evening at 23:00 p.m. in his city in central Ukraine , Vinnytsia.
Like her, her comrades - often dressed in the traditional embroidered shirt - try to forget the war during this week of festive, cultural and spiritual events. A parenthesis in contact with the hundreds of thousands of pilgrims from all over the world who have flooded the streets of Lisbon, flags in hand and bags on their backs.
"Despite the war, all the difficulties", after a long journey and fifteen hours of blockage at the Polish border, "we are there", rejoices Father Roman Demush, vice-responsible for the pastoral care of young Ukrainian Greek-Catholics , which represent some 8% of the country's population.
The young people he accompanies "live in a terrible reality, with daily bombardments (...) They came to find a little peace", affirms the priest in front of the church which serves as their headquarters in the district of Graça , on one of the hills of old Lisbon.
"Everyone says hello to us, we are told that they are praying for us, it's very moving", observes Olena, blue-green eyes and red hair. On its flag, words inscribed in black felt: "France loves you!"
"Crying" with the Pope
A little further on, in front of a stand, volunteers offer passers-by virtual reality headsets plunging the viewer into war-torn Ukraine, 360° scenes of chaos that contrast with the music and shimmering colors of this lively district with view of the Tagus.
Thursday morning, about fifteen members of the group met the pope in private.
"He listened to the stories of the families, of the massacres caused by Russia on our territory. We cried together, talked, prayed and at the end we symbolically shared bread and water", says Father Demush.
The Argentinian Jesuit had mentioned a joint initiative between young Ukrainians and the handful of Russians present in Lisbon. But the initiative has so far remained a dead letter.
Russians? "We don't see them, and so much the better," says Father Demush, who believes that such a meeting would cause "even more suffering" for young people.
"We cannot make a murderer and a victim dialogue. Of course, young people are not guilty, but they must take a stand against the policy of their country", he believes.
"It would be strange, uncomfortable," confirms Olena Syniuha, 19, from Lviv (west). "Because the pain lives in our hearts, we don't want any form of interaction with them, it's really painful to see what they're doing."
Within the group, an overwhelming majority of girls. And for good reason: the law prohibits men from leaving the territory to honor their military service as soon as they come of age.
"It's really very sad, of course there are a lot of boys who wanted to come (...) but they can't", laments Olena Syniuha. On his wrist, a bracelet offered by Spanish pilgrims.
"We feel a kind of mission that we must be here on their behalf. We must absorb all the support received and give it to them," she slips.
The young woman makes a wish to "come back to Ukraine full of joy, hope, support so that they can feel it". "And maybe at the next WYD they can come with us."
The Editorial Board (with AFP)
Image credit: Shutterstock/ AM113