Attack at the basilica of Nice: the investigation reveals the determination of the suspect who invokes amnesia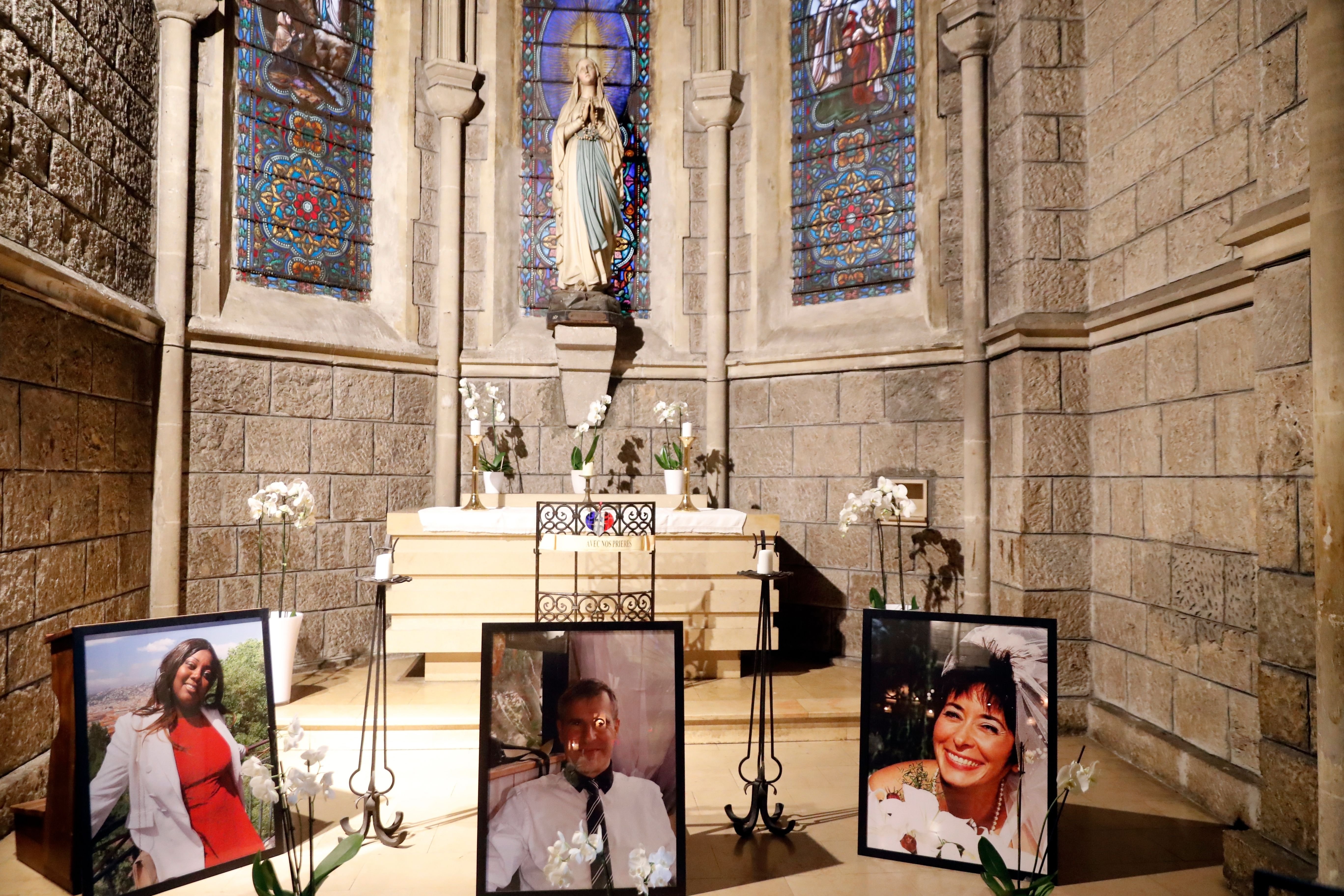 ---
"Tomorrow I will go to France, the country of miscreants and dogs": the investigation into the Nice basilica attack in October 2020 revealed the determination of Brahim Aouissaoui, accused of having killed three people, but the Tunisian refuses to explain his act by pleading amnesia.
"I don't remember", "I have nothing to say", most often replies the young man to the anti-terrorism investigating judge who questioned him five times between April 6, 2021 and November 28, 2022 , according to documents seen by AFP.
On October 29, 2020, around 08:30 a.m., Brahim Aouissaoui, 21, entered the Nice basilica armed with a knife with a 17 cm long blade.
First he nearly beheads Nadine Devillers, a 60-year-old devotee. Then he stabs Franco-Brazilian Simone Barreto Silva, 44, who takes refuge in a restaurant before dying, and sexton Vincent Loquès, 55, father of two daughters.
Two municipal police officers shoot him several times as he rushes on a patrol brandishing his knife and shouting "Allah akbar". Seriously injured and handcuffed while waiting for help, he recites prayers, repeating "Allah akbar" several times.
When he wakes up in the hospital, he claims to have forgotten everything about his actions, wrongly assures that his parents are dead and is mistaken in the composition of his siblings.
During his first interrogation, he pushes the denials to the point of absurdity, refusing to recognize himself in photos found in his phone or CCTV images. "If it had really been me in these images, I would recognize myself," he says impatiently.
"War cry"
"Are you finally going to stop denying the obvious!", Annoys the magistrate, emphasizing his "undeniable bad faith".
Two surgeries and a stay in intensive care may have altered his memories in the days preceding the facts, note two psychiatric experts, but not to the point of causing him to completely lose his memory and his biographical landmarks.
"The systematic and opportunistic nature" of his amnesia does not constitute "a denial" but "a defense system which stems from a refusal of any collaboration" with justice, they consider.
"He is locked in a failing memory which prevents him from knowing exactly what happened during the few days of the murderous journey that he is credited with", analyzes his lawyer, Tewfik Bouzenoune. "There is nothing to say that he is lying about this amnesia".
According to experts, Brahim Aouissaoui, long addicted to alcohol and narcotics, "redeems himself in rigor and asceticism before switching to radical commitment and then terrorist action". His discernment during the attack was neither abolished nor impaired and he presents a "violent psychopathic profile".
The blows given to the victims, in particular to the throat, confirm "the relentlessness and determination to kill of Brahim Aouissaoui", adds a summary note.
The police officers who intervened remember his "dark look", his "cry of hatred", a "battle cry". "This man wanted to kill us," said one.
Originally from Sfax (Tunisia), he arrived on the evening of October 27 at Nice station. A black gasoline seller, he left his country on the night of September 19 to 20 aboard a boat with ten other people, without telling his family.
Jihadist threats
In France, the threat of a jihadist attack is reborn with the republication in early September of the cartoons of Muhammad by Charlie-Hebdo at the opening of the trial of the January 2015 attacks. Several jihadist groups are calling for France to be targeted.
At the end of September, a Pakistani stabs two people in front of the former offices of the satirical weekly in Paris.
"Your departure plan is more or less concomitant with these calls", notes the investigating magistrate.
The attack on the basilica is not claimed by the jihadist groups, who nevertheless welcome it.
On Brahim Aouissaoui, the investigators do not discover any proof of allegiance to one of them. But for them, his migratory journey seems to be part of "a terrorist logic".
Arrived on the Italian island of Lampedusa, he was placed in quarantine due to the coronavirus and reached Sicily on October 11. He worked there for two weeks for the "sole purpose of obtaining the money to travel to France", according to the investigators.
"Normally tomorrow I will go to France, the land of miscreants and dogs," he wrote to a contact on October 25.
"My friend I work a little, I have a project, that god facilitates it to me", he sends the day before to another, "I have something to do, I hope that god will facilitate things" .
Radicalization
If no explicit message on a planned attack was found, the investigations demonstrated "the radicalization of a terrorist nature" of the Tunisian and "his hatred of France".
In his cell phone were found photos of Abdullakh Anzorov, the assassin of Samuel Paty, and of President Emmanuel Macron in front of the coffin of the teacher, published on October 22 in a magazine of the Islamic State group with a call "to kill the French miscreants".
Brahim Aouissaoui refutes any radicalization, even if his rigorous practice is confirmed.
In Sfax, he rubs shoulders with followers of the Salafist ideology, including at least two known to the Tunisian anti-terrorist services. A consumer of alcohol and drugs, he changed his behavior at the end of 2018 and "became assiduous" in his religious practice, recount his family and childhood friends.
He fasts on Mondays and Thursdays - like Muslims of Salafist or rigorous obedience - and multiplies religious injunctions to his family and friends.
On Facebook, he regularly sends his relatives a link to a sermon by Khaled Al-Rashed, a Salafist who called for the closure of the Danish embassy after the publication of caricatures of Muhammad.
"What is very strict religious practice? I pray," he replied to the magistrate who noted that he went to the mosque several times during his stay in Nice.
"I am satisfied"
"He tried to deceive people but his career leaves no doubt about his jihadist terrorist profile determined to kill and strike France", considers Me Samia Maktouf, lawyer for civil parties.
After almost two years of evading the subject or invoking amnesia, Brahim Aouissaoui suggests to one of his brothers, incredulous, that he is indeed the author of the attack during a telephone conversation in July 2022.
"Everything depends on the destiny of the lord (...) I am satisfied with what the lord has written for me", he told her.
In detention, where he chained incidents and got closer to radicalized prisoners, he also boasted of being the assailant of Nice.
Two weeks after his arrival in June 2022 at the Meaux prison center (Seine-et-Marne), he was urgently transferred to Beauvais (Oise), suspected of preparing an attack against the guards with two other radicalized prisoners.
"The terrorist character of his approach is based only on elements collected a posteriori. What about his radicalization before his arrival in France and his possible participation in a terrorist group? For the moment, there is no nothing," said his lawyer.
In this case, no accomplice or sponsor could be identified, according to the documents consulted by AFP.
The Editorial Board (with AFP)
Image credit: Shutterstock/Godongphoto