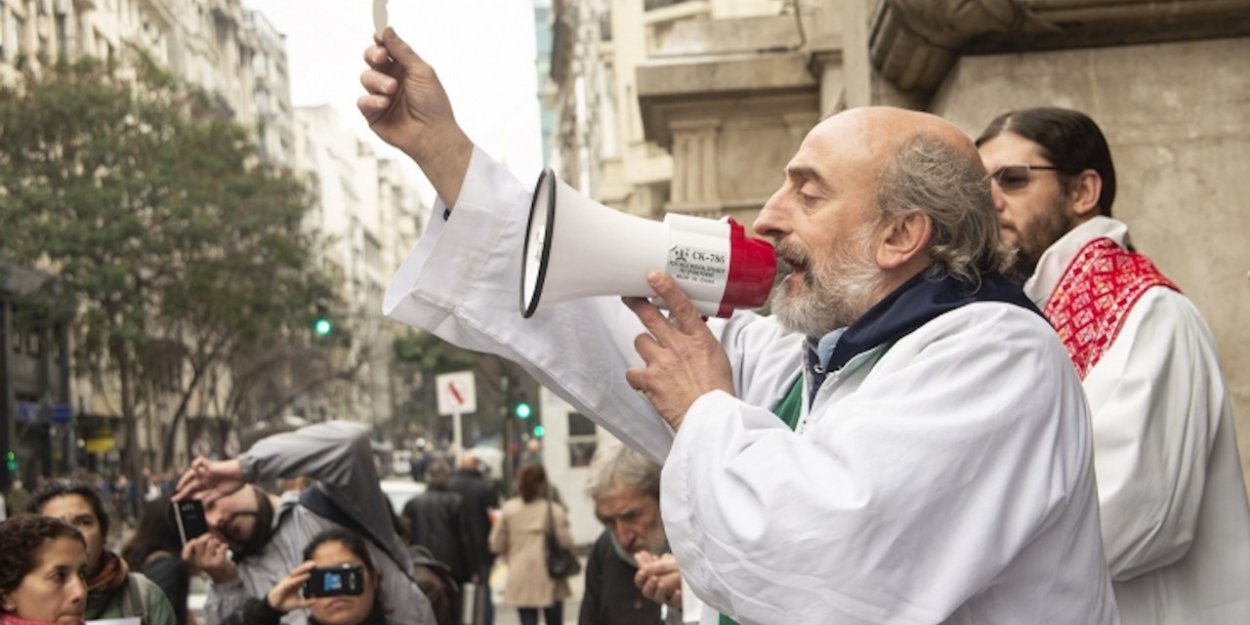 ---
Several priests from working-class neighborhoods and slums of Buenos Aires concelebrated a mass of support for Pope Francis on Tuesday, to "repair the outrages" which targeted him in the electoral campaign, coming from the ultra-liberal candidate Javier Milei.
About a thousand people attended the mass in the "villa miseria (slum) 21-24", in the south of the capital, convened by a collective of priests from working-class neighborhoods of Greater Buenos Aires, to reject "all types of "insults and lies" which targeted the sovereign pontiff.
Javier Milei, a 52-year-old economist presenting himself as an "anti-system" candidate, with sometimes libertarian and sometimes far-right accents, created a political shock by coming first in the primary elections in mid-August with a view to the presidential election on 22 October in Argentina, with 29,86% of the votes.
His fiery outbursts, aimed in turn at the "political caste", the Central Bank, the State, have not spared the Pope, whom he has called names on several occasions in recent months.
"Jesuit who promotes communism", "nefarious character", "imbecile", "representative of the Evil One seated on the throne of the house of God" are a sample of the qualifiers used by Milei. With, however, a very marked downside since he won the primaries, therefore emerging as presidential candidate.
"I respect the pope as head of the Catholic Church and as head of state", and "spiritual leader of a large majority of Argentines", he recently tempered.
At the mass, which had the approval of the archbishop of Buenos Aires - a position occupied by the future pope Jorge Bergoglio -, the priest José di Paola in his homily described it as "unworthy of a candidate of say 'To hell with social justice', when the Gospel, the social doctrine of the Church, advocates love of neighbor".
Milei has repeatedly called the concept of social justice a political "aberration."
Several trade unionists, some ministers from the center-left government, and Nobel Peace Prize winner Adolfo Perez Esquivel attended the mass.
"Deifying the market leads to dehumanization, through the forgetting of the weakest," declared the Collective of priests from working-class neighborhoods of Greater Buenos Aires in a text read at the celebration. "If you only 'wake up lions'", they continue, referring to a favorite slogan of Milei's, "it makes sense that they eat the defenseless lambs. With the law of the jungle, only the strongest wins ".
The Editorial Board (with AFP)
Picture : Father Lorenzo "Toto" De Vedia, priest responsible for the parish of Miracles in Caacupé - X (new Twitter name) - Splendid AM 990