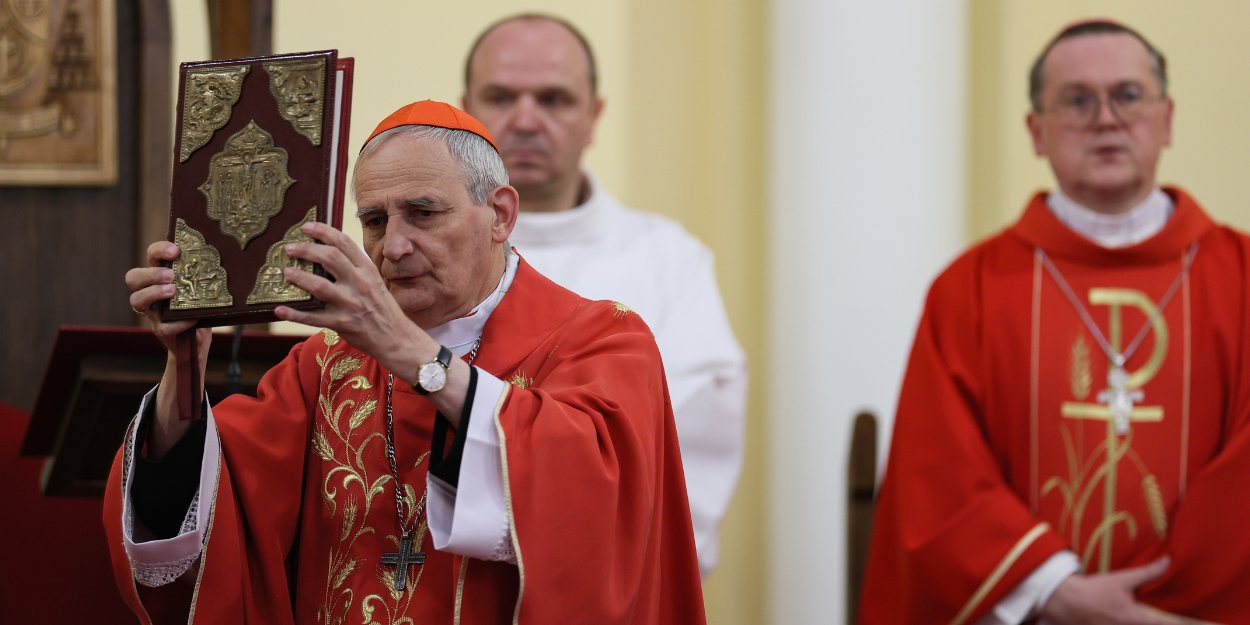 ---
The pope's envoy for peace in Ukraine, Matteo Zuppi, met Thursday in Moscow with the Russian commissioner for children, targeted by an arrest warrant from the International Criminal Court (ICC), and the patriarch of the Church Russian Orthodox.
Maria Lvova-Belova, accused by the ICC of "illegal deportation" of Ukrainian minors, said she discussed with Mr. Zuppi "humanitarian issues related to military operations and the protection of children's rights".
"I am sure that Christian love and mercy will help dialogue and mutual understanding," she added on Telegram, accompanying her message with photos with the Italian cardinal.
Zuppi also spoke with Patriarch of the Russian Orthodox Church Kirill, a rare encounter between clergy leaders of both faiths.
"At a time when relations between Russia and the West are experiencing very serious problems (...) it is very important that all forces wishing to preserve peace and justice unite," said Patriarch Kirill, evoking a "real threat of a major global armed conflict".
He called, quoted in a press release, on their two Churches to make "joint efforts" to "prevent the negative development" of the situation.
"As Christians, we must help each other to understand how to act," Cardinal Matteo Zuppi added, according to the press release.
Patriarch Kirill, an ally of Vladimir Putin who has in the past justified the Russian offensive, also informed the cardinal of the "persecutions suffered" by the Orthodox in Ukraine, where the Church close to Moscow is under pressure from the authorities.
Matteo Zuppi's visit to Ukraine in early June did not lead to a breakthrough in the resolution of the conflict with Russia, but President Volodymyr Zelensky stressed that "the Holy See can make an effective contribution" to the release of prisoners from Ukrainian war and the return of children "deported" according to Kiev to Russia.
kyiv estimates that at least 20.000 minors were illegally taken to Russia.
In mid-March, the ICC issued a historic arrest warrant against Russian President Vladimir Putin and Maria Lvova-Belova, finding that they were responsible for the "war crime of illegal deportation" of these Ukrainian minors.
Moscow rejects all these accusations, claiming to have "saved" these children from the fighting and to have put in place procedures to reunite them with their families.
Matteo Zuppi also attended a Catholic religious service at a Moscow cathedral on Thursday evening. He must return to Rome on Friday at the beginning of the afternoon.
The Editorial Board (with AFP)
Image: Italian Cardinal Matteo Zuppi (L), Pope Francis' envoy for peace in Ukraine, leads a mass at the Cathedral of the Immaculate Conception of the Blessed Virgin Mary in Moscow, June 29, 2023. | Olesya KURPYAYEVA / AFP