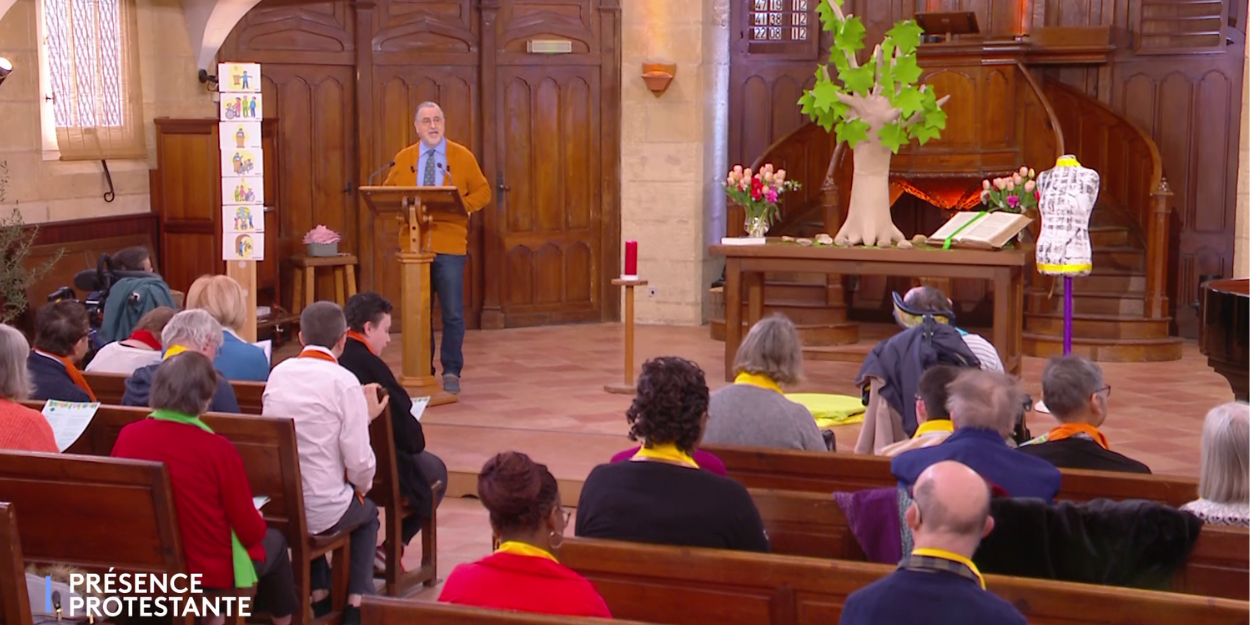 ---
This back to school again, during a special worship service, Présence Protestante went to meet parishioners who were definitely not like the others! In the small town of La Force, near Bergerac, cameras and satellite dishes met residents and staff of the John Bost Foundation.
"I tell you the truth […] there is no one greater than John the Baptist. However, the least in the kingdom of heaven is greater than he." Gospel of Matthew, chapter 11.
La Foundation dreamed of by Pastor Jean Antoine (known as John) Bost in the middle of the 2th century, its vocation is to welcome, now almost everywhere in France, people in situations of fragility and/or disabilities. And the worship that we celebrated on Sunday at its mother house, in La Force, is a bit, all types of disabilities combined, the Rencontres du Papotin (France XNUMX) Protestant version.
What view and place does the Church have on disability? What is the place of disability on television? And, since television is only the reflection of our faces and our expressions (in every sense of the words), how does our society view "people with disabilities"?
To begin with, it would be wise to question the merits of this new AOPC: "Person with a disability". Would it discriminate against a person to say that they are "disabled"? Have we forgotten our grammar lessons to such an extent that we confuse common noun ("person") and epithet adjective ("handicapped")? The first not being soluble in the second. The adjective is in no way the total, unique and entire definition of the noun. It expresses only one of the many characteristics.
A person is above all a person, he can be tall or small, young or old, friendly or surly, disabled or not, etc. And all this depends on who and how we look at it.
Our society ("society" is all of us), under the guise of scientific classification, is in fact very sick of its labels. She sticks more than necessary to reassure, to express what she considers to be a fair relationship to "the norm" (e.g.: Michelin stars the size of an egg). However, inevitably a day comes when the standard or the relationship to the standard changes (e.g.: vehicle consumption). She then believes that removing the label and replacing it with a completely new one will change the situation, when in reality, a new label is only the stigma of another standard... A car remains a car, a good dish remains a good dish regardless of the star…
In our relationship to things and the world, the issue is not so much what is written on the standard as the fact that we also need to resort to the standard itself, often just to soothe our obsessive disorders. compulsive, because the relationship with the big world creates discomfort in our small (strong) interior.
In the market next to my house, in the poorest suburbs of the capital, while shopping I meet some of the world's disqualified people, those who, by standards, would happily be labeled "D" or "E ": the migrants who cart away stalls and crates from dawn, the poor who find food there at low prices, and even fruits and vegetables that are too big, too small, misshapen or in excess, disqualified from labeled pharmacies and sold there. However, is a carrot, however twisted, not a carrot?
In our Protestant galaxy, the question of the norm and the relationship to the norm should be central. We parishioners are all members of an assembly as disparate as that of the Empire in Star Wars. Some speak loudly, others sing out of tune, or not at all, some have noses... noses as high as perches... and others, like Christian, are graceful but have no words.
At the initiative of the show Les Rencontres du Papotin, there are two talented friends, Olivier Nakache and Éric Tolédano, better known for their cinematic or fictional escapades like "Nos Joursheureux" or the Arte series "En Thérapie". And if, with these lines, I pay them here a vibrant and very normal tribute, it is to salute each stage of their journey, which tirelessly breaks down norms. The heroes of Intouchables, their greatest success, are a rich white quadriplegic Parisian and an ex-convict, a black suburbanite of Senegalese origin. In terms of strong men, we can do better…
And as far as we are concerned more directly, I recommend their very moving and aptly named "Hors Normes" (2019) inspired by two associations caring for autistic people: Le Silence des Justes and le Relais Île-de-France. You will find Les Rencontres du Papotin and Hors Normes from your access providers and the Présence Protestante cult at the John Bost Foundation here:
A little over 2000 years ago, another before us refused the normalization of people. His view of lepers, the disabled, the marginalized, the little people, the disqualified still inspires us today. He didn't look at the label before choosing, he loved and looked in truth. This earned him the cross, and for us, eternity. Let's not lose sight of this look.
A program prepared by Yannick André, directed by Elkana Randrianaivo and produced by France.tv Studio for France Télévisions to discover in replay.
Christopher Zimmerlin, for Protestant Presence