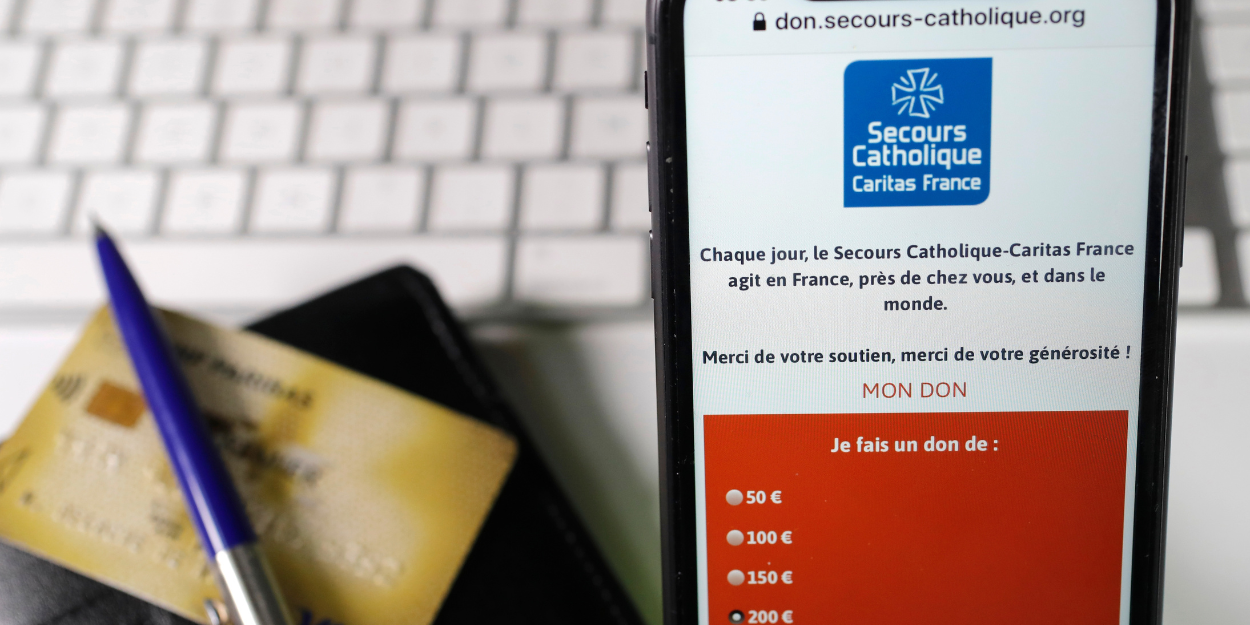 ---
"It's an investment that corresponds to my values": practicing Catholic, Jean François Gapp has invested 3.000 euros in Kaori.vie, the life insurance of Secours Catholique. In recent years, Christian finance has always attracted more followers in France, even if the movement is not massive.
"I didn't want to finance companies that manufacture pesticides banned in Europe or impose hellish speeds on their employees," the 63-year-old ex-teacher told AFP.
Less known than its Islamic equivalent, Christian finance has social investment at heart and works to place money in sectors or companies compatible with the Social Doctrine of the Church (CSD), via funds or specialized life insurance.
Concretely, it is a question of promising private or institutional investors - religious congregations, dioceses, etc. - that the money placed will respect "the protection of life and the weakest" and will banish "immoral behavior, such as pornography, alcohol, the sale of weapons", explains to AFP Antoine Cuny de la Verryère , author of "Christian Finance" (Editions Larcier).
The movement is not new because the first French "ethical" fund was founded in 1983 by the nun Nicole Reille, but its expansion has accelerated considerably over the past ten years, he says. The "subprime" crisis in 2008 "revealed morally inadmissible behavior", serving as a "trigger" for the rise of more ethical finance. Kaori.vie, like other Christian products, attaches particular importance to extra-financial criteria.
"We look at the differences in remuneration, the place of women in positions of responsibility, but also the way in which the company behaves vis-à-vis its subcontractors, employees and consumers", summarizes François Soulage, chairman of the Committee. ethics of this life insurance.
There are also exclusions, some of which overlap with those of funds stamped "ESG" (which meet Environmental, Social and Governance criteria) or "SRI" (Socially Responsible Investment).
Most Christian products thus refuse to finance tobacco, fossil fuels, armaments, gambling, but also exclude laboratories producing contraceptives or abortive pills.
"Little Market"
Today, it is difficult to assess the volume in France of this essentially Catholic finance, because it "does not explicitly say its name" - often preferring the term "fraternal" or "ethical" -, in a country marked by its secular identity, explains Antoine Cuny de la Verryère.
In 2021, the Observatory of Christian Ethics Funds identified 13 investment funds "with at least 20 million euros in assets, which refer to Christian ethics". Ethica from Allianz GI, Porteurs d'Espérance from Meeschaert or even Ethica Balanced from Amundi: these specialized funds come mainly from general financial players, analyzes Alexandre Lengereau from the consulting firm Amadéis, responsible for carrying out the study for the Conference. of the Bishops of France.
In total, these funds represent only 1,3 billion euros, "but this is only the tip of the iceberg", he estimates. Because the Observatory studies only funds open to the public, excluding other supports (insurance products, SCPI) and funds managed for Christian institutions, so "that it would perhaps be necessary to multiply by four or five" to measure the true magnitude of the movement. Despite everything, it is "a small market, afirms Mr. Lengereau.
Especially compared to Islamic finance, which Bercy estimated in 2019 that it represented "nearly 2.400 billion euros in assets worldwide" and "could reach around 3.100 billion euros by 2024".
"Carrier Fly"
Christian finance also risks suffering from the "phenomenon of dechristianization", afirms Alexandre Lengereau, the sector struggling in particular to spread the good word among young people. "This is our major problem today," confirms Mr. Soulage of Kaori.vie.
Very committed to ecology, social issues but also feminism, the younger generation, on the other hand, rarely espouses the positions of the Church on contraception or abortion. Another criticism: despite the promises, the companies in which Christian funds invest are not always exemplary.
As for SRI labels, "it's a difficult exercise", estimates Alexandre Langereau, confirming that "2022 has been a tricky year" for all finance, with "corpses in the closet".
At Kaori.vie, we assume that we are not 100% exemplary: "we prefer to stay" in companies that are not perfect, but seek, for example, to reduce their carbon footprint, to "get them moving", explains François Soulage, " we are here to play the coachman's fly".
The Editorial Board (with AFP)
Image credit: Shutterstock/Godongphoto