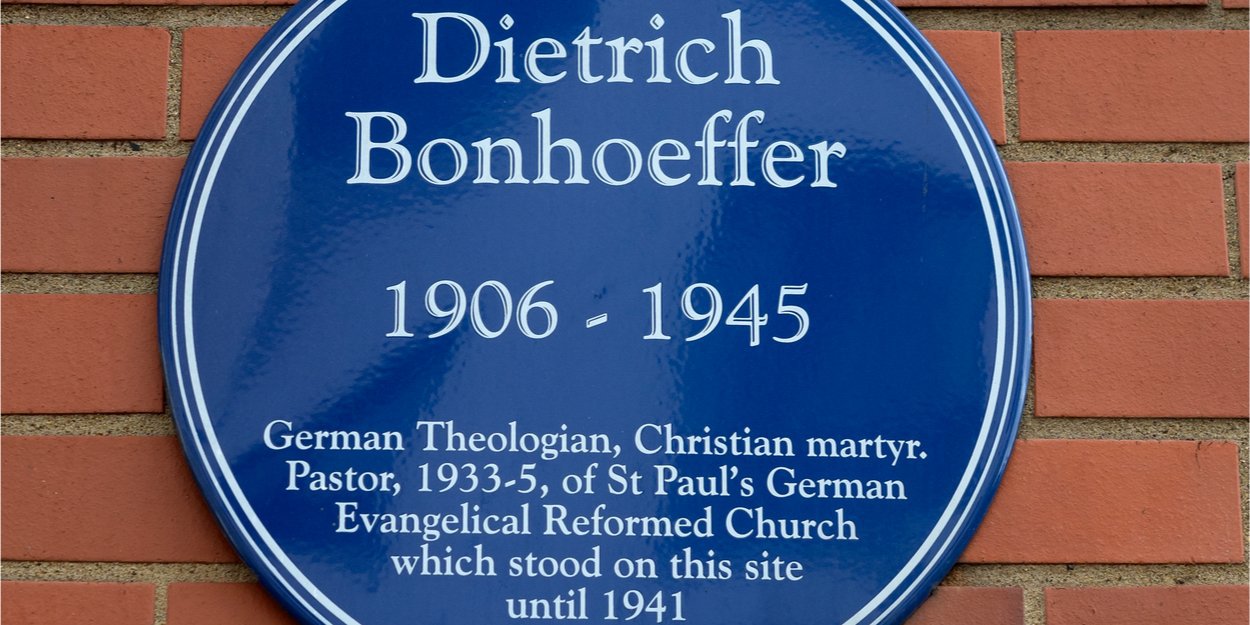 ---
Dietrich Bonhoeffer was a theologian and pastor who fought against Nazism in World War II. He is also famous for having written several books including The Price of Grace or even Community life.
Born in Germany in 1906, he became a pastor at the age of 25. Hitler's rise to power just two years later marked a turning point in his career. Dietrich Bonhoeffer does not hesitate to denounce the actions of the Führer. Frustrated by the reluctance of Church leaders to oppose Hitler's anti-Semitism, Bonhoeffer created the Confessing Church alongside Martin Niemoller and Karl Barth. Eventually banned from teaching publicly and forced underground, he taught seminary students of the Confessing Church for several years. In January 1943, he was arrested. With the help of the guards in charge of monitoring him, he continues to teach and succeeds in passing some of his texts, until his transfer to a concentration camp. Sentenced to death, the pastor was hanged in April 1945, a month before Germany's surrender.
Discover 20 inspirational quotes from Dietrich Bonhoeffer
"God loves human beings. God loves the world. Not an ideal human being, but human beings as they are; not an ideal world, but the real world. What we find repugnant in their opposition to God, what we shun with pain and hostility...that is the ground of unfathomable love for God. »

"Christianity preaches the infinite value of what is seemingly worthless and the infinite uselessness of what is valued. "

"The first service we owe to others in a community is to listen to them. Just as our love for God begins with listening to the Word of God, the beginning of loving others is learning to listen to them. God's love for us is demonstrated by the fact that God not only gives the Word of God, but also gives us God's ear. We do God's work for our brothers and sisters as we learn to listen to them. "

"May we be able to say 'no' to sin and 'yes' to the sinner. "

"Judging others makes us blind, while love enlightens. By judging others, we blind ourselves to our own evil and to the grace to which others are just as entitled as we are. "

"Nothing that we despise in other men is inherently absent from ourselves. We must learn to view people less in light of what they do and do not do, and more in light of what they are suffering. "

"We must be prepared to be interrupted by God. "

"In a world where success is the measure and justification of all things, the figure of Him who was condemned and crucified remains foreign and is at best the object of pity... The figure of the Crucified invalidates any thought that takes success for his standard. »

"The Church is the Church only when it exists for others... Not to dominate, but to help and serve. It must tell men, whatever their calling, what it means to live for Christ, to exist for others. »

"The ultimate test of a moral society is the kind of world it leaves for its children. "

"Seek God, not happiness - this is the fundamental rule of all meditation. If you seek God alone, you will gain happiness: such is his promise. »

"There is a meaning in every trip that is unknown to the traveler. "

"We pray for big things and forget to give thanks for ordinary (and yet really not small) small gifts. How can God entrust great things to someone who will not receive small things from him? "

"The blessing of waiting is lost on those who cannot wait, and the fulfillment of the promise is never theirs. They want quick answers to life's deepest questions and miss the value of those anxious wait times, searching with patient uncertainties until the answers come. They lose the moment when the answers are revealed with dazzling clarity. "

"An act of obedience is worth a hundred sermons. "

"The awareness of a spiritual tradition that spans the centuries gives a certain feeling of security in the face of all temporary difficulties. "

"It is by grace, only by grace, that we are able to live in community with fellow Christians. "

"The community of saints is not an 'ideal' community of perfect, sinless men and women, where there is no need for further repentance. No, it is a community which proves that it is worthy of the gospel of forgiveness by constantly and sincerely proclaiming the forgiveness of God. "

"Silence in the face of evil is itself bad: God will not keep us innocent. Not to speak is to speak. Not to act is to act. "

"We must not just heal the wounds of the victims under the wheels of injustice, we must drive a spoke into the wheel itself. "
Writing
This article is published and translated from the site Crosswalk.
Image Credit: Chris Lawrence Travel / Shutterstock.com