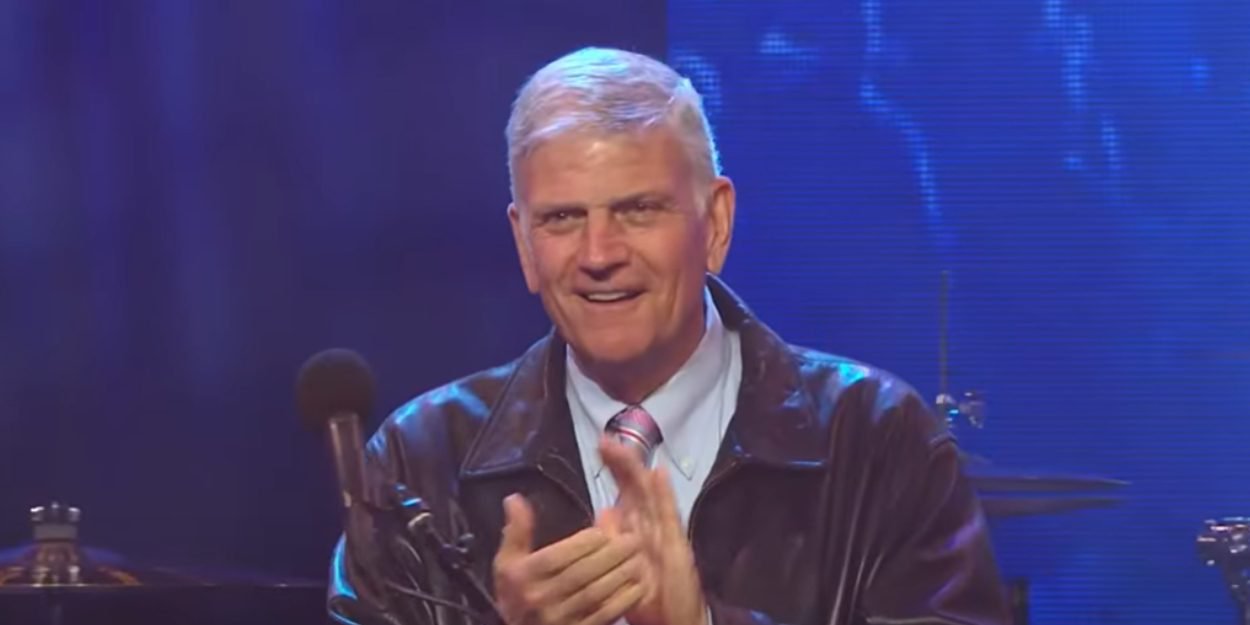 ---
At least 1400 people accepted Jesus as their savior during Franklin Graham's UK evangelistic tour, titled 'God Loves You', which concluded on Saturday July 16 in London.
The son of famous preacher Billy Graham, Franklin Graham, was recently in the UK on an evangelistic tour called 'God Loves You'. He visited Liverpool on May 14, Wales at Newport on May 21, Sheffield on May 25 and London on July 16.
On this last date, more than 7600 people were present to hear the evangelist speak of God's unwavering love for us and 700 accepted Jesus as their Savior.
What a great night at ExCeL London! We praise God for all those who made the decision to repent of their sins and put their faith and trust in Jesus Christ tonight. I want to thank the hundreds of churches who prayed, planned, and were a part of the God Loves You Tour. pic.twitter.com/sGHTDZUJHL

- Franklin Graham (@Franklin_Graham) July 16th, 2022
"God sent his Son Jesus Christ to this earth on a mission of rescue to save us from our sins," Franklin Graham told the crowd before speaking about Christ's resurrection.
"Jesus Christ died on a cross and shed his blood to forgive our sins, and on the third day he rose again. He is not dead, he is alive and he is here at ExCeL tonight, and he will change your life if you put your faith and trust in him. »
"God remembers everything you do. He remembers your thoughts. ... He remembers your sins. But when you receive Christ, your sins will be blotted out," the evangelist continued.
In all, more than 18 people attended the God Loves You tour and 1 of them made the decision to follow Jesus.
according to CBN News, volunteers from over 3 churches in the UK and London worked together to make these events possible.
Thus, despite the controversy caused by the arrival of Franklin Graham in England and Wales, "God Loves You" was a real success.
As a reminder, the Mayor of Liverpool, Steve Rotheram, had demanded that posters advertising the tour be removed from buses. Asked by the BBC, he said he did not want "the views of a known hateful preacher - who has an appalling record of homophobic and Islamophobic views - to be displayed anywhere" in the city.
The Welsh Minister, Mark Drakeford, had also castigated the arrival of the American evangelist in his country. He had declared "regret" his visit considering that it conveyed a message of "hate".
A statement deemed "deeply worrying" by Franklin Graham who spoke in Wales online. He said he regretted that elected officials associate the views of Christians with "hate" and denounced religious discrimination.
Le God Loves You website indicates that with this tour, Franklin Graham wished to continue "the lifelong work of his father, Billy Graham, who had a deep appreciation and respect for the United Kingdom".
"The Lord placed a burden on Franklin's heart to proclaim the name of Jesus Christ throughout the United Kingdom, and that sense of purpose and gospel passion continued to grow over the years. »
Camille Westphal Perrier